The First Doctoral Student with Disabilities in The 96 Years Old History of UNWE Became A Doctor in Sociology
Silvia Vasileva Datsin defended her Doctoral thesis on the Social Dimensions of Crisis at the Bulgarian Enterprises. She has graduated from the Economic Sociology Department at General Economics Faculty, professional field of Sociology, Anthropology and Cultural Sciences, speciality Sociology – Bachelor`s and Master`s degree. She has studied in the Doctoral Programme of the Department since 2012 to 2016. Her Doctoral advisor is Assoc. Prof. Dr. Maria Stoyanova, lecturer at the Economic Sociology Department and Vice Dean of the General Economics Faculty. In the scientific jury which has conferred on Silvia Datsin the educational and scientific degree of Doctor in the scientific speciality Sociology, code 05.11.01 participated: Prof. D.Sc.(Soc.) Elka Todorova, Chairwoman, Assoc. Prof. Dr. Sasha Todorova, Assoc. Prof. Dr. Maria Stoyanova, Assoc. Prof. Dr. Zdravka Toneva and Assoc. Prof. Dr. Bozhidar Ivkov.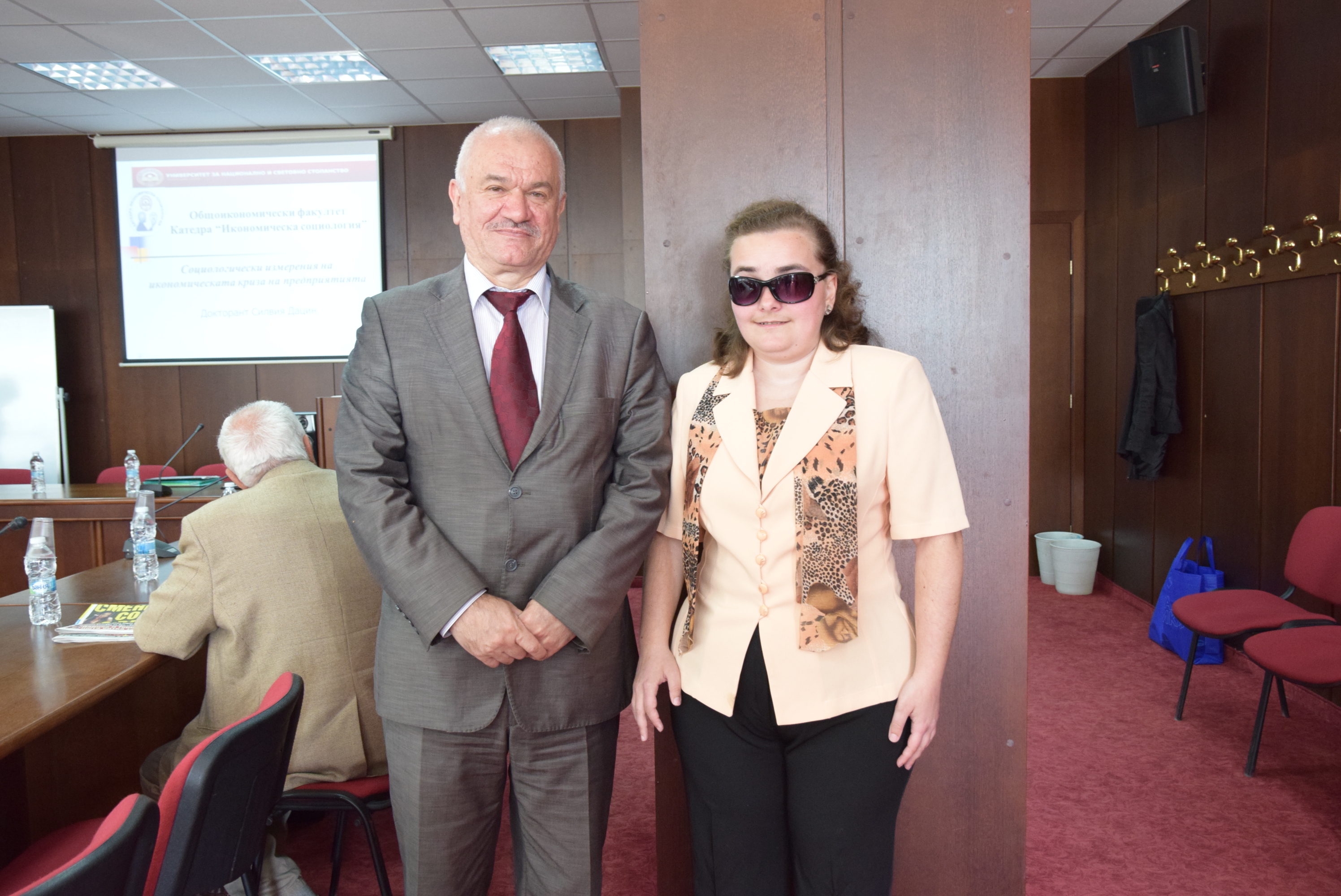 Silvia Datsin with Prof. Valentin Goev, Vice Rector of the university
Prof. D.Sc.(Soc.) Elka Todorova, Chairwoman of the scientific jury declared excitedly: "I am proud of our institution for it has implemented successfully the idea of equal chance. Silvia Datsin is an eloquent example of a young, ambitious and serious scientist".
"It`s a triumph of spirit over the body, victory of rationality over the emotion, celebrity of intellect. It is equal to a heroic deed in our modern times, worthy example for Doctoral students and undergraduates from our university", greeted the attendees in the Scientific Councils Hall Prof. Dr. Atanas Kazakov.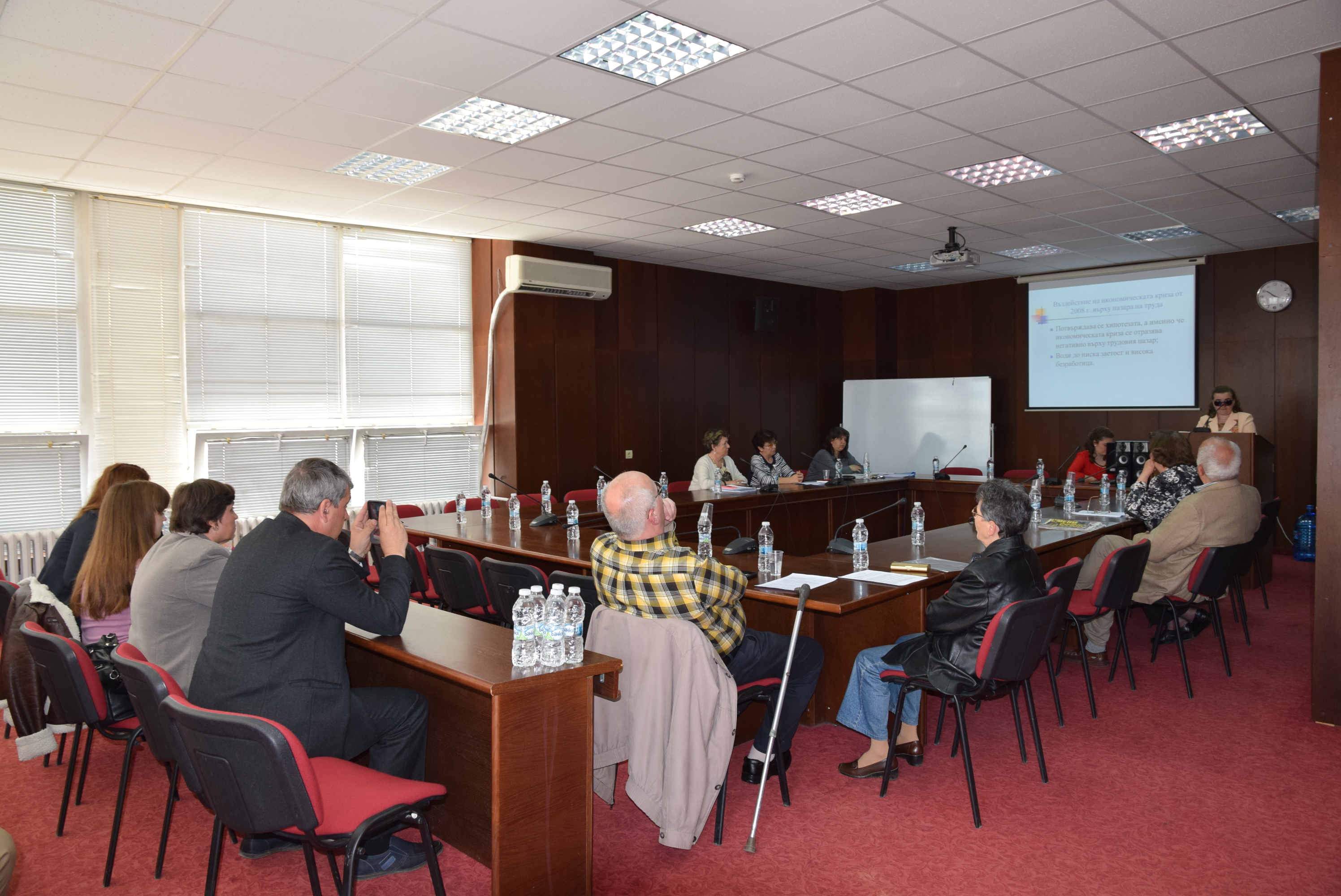 In the Scientific Councils Hall
Assoc. Prof. Dr. Andrey Nonchev shared:"The admission of Silvia Datsin as a Doctoral student in our Doctoral Programme is not occasional or undeserved. She has graduated from our Department, speciality Sociology with excellent results during her Master`s degree education. She declared clearly her desire to continue her education at our Department and presented herself brilliantly during the prospective Doctoral student exam. The Managing body of the Department implements successful policy in the field of Doctoral degree education. Over the last five years 8 of our Doctoral students have defended their Doctoral theses in term and 8 ones are still in their process of education. The success of Silvia Datsin today is due to the efforts of all members of the Department especially to her Doctoral advisor and to Silvia herself. We justify Prof. Dr. Blagoy Kolev`s confidence that "namely our Department fits best to educate such Doctoral student for the first time at the university".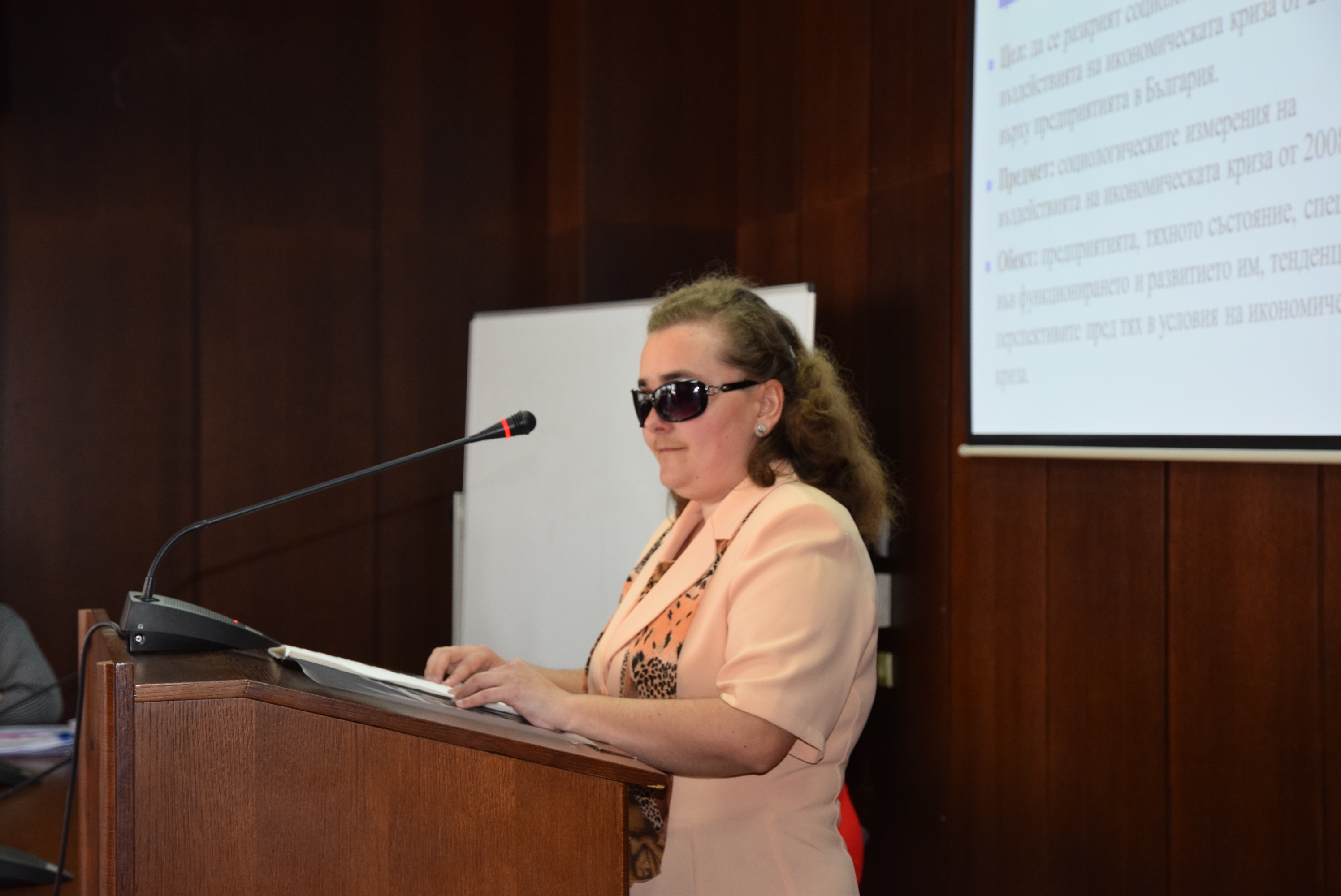 Dr. Datsin during her Doctoral thesis defence
Assoc. Prof. Dr. Sasha Todorova commented: "Conferring Doctoral degree on a student with disabilities for the first time is an implementation of a social innovation at the UNWE. Our university is attractive for education of undergraduates and Doctoral students from this social category (over 100 people at the moment) because of the healthy atmosphere at the university, differential approach of lecturers in their work with such people, easy access to the library fund, computerized seats for blind people at the library, accessible material facilities for moving to the academic halls, good administrative service, commitment of their colleagues, help by students-volunteers at the UNWE, periodical surveys for implementing a feedback. Our university creates social innovations following its traditions. The new Doctoral student is an achievement for the Department, Faculty and university!"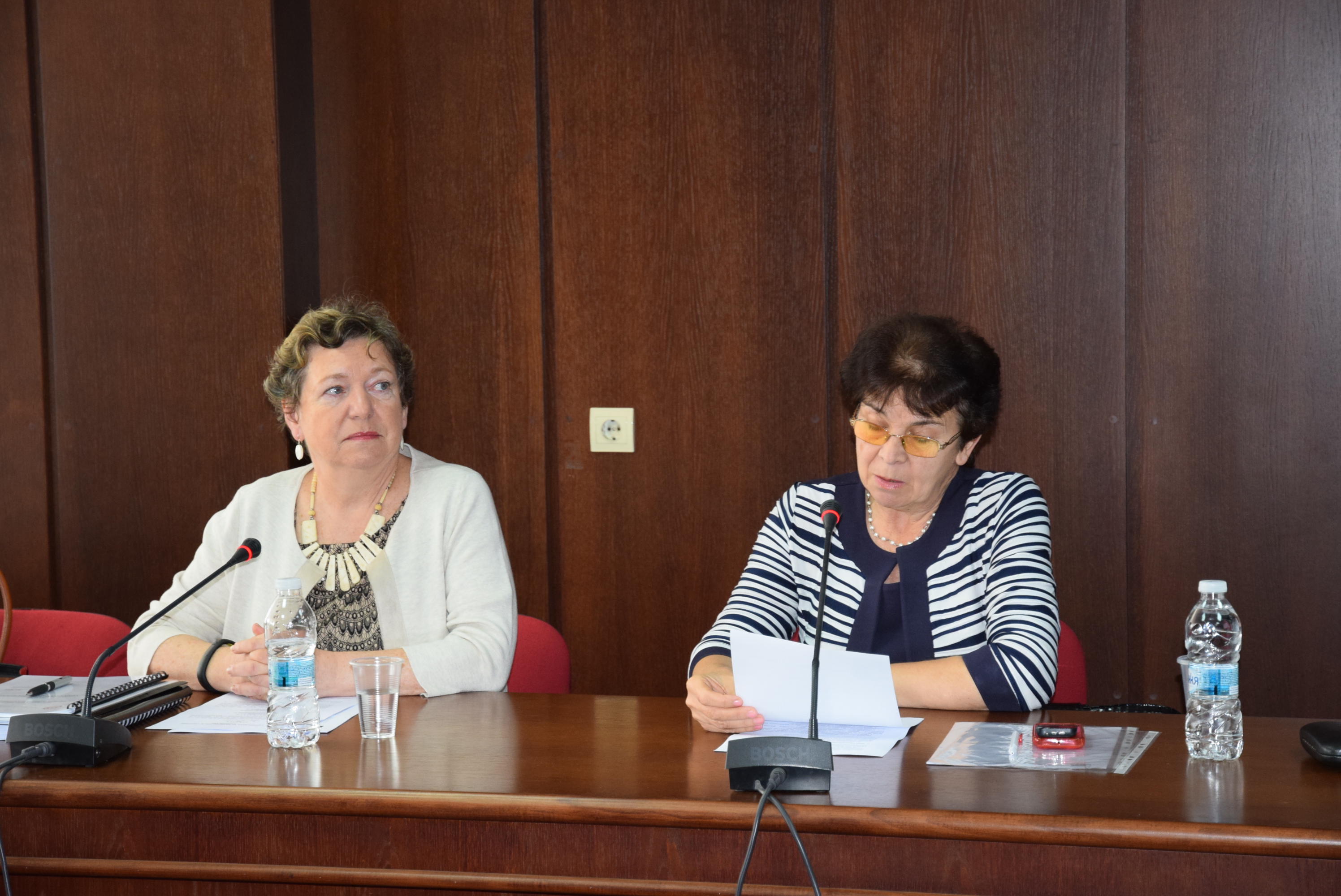 The Doctoral advisor Assoc. Prof. Maria Stoyanova (on the right)
The Doctoral advisor Assoc. Prof. Dr. Maria Stoyanova:"I undertook the engagement as a challenge and unmeasured risk but now I accept it as an opportunity of innovation. The efforts of the Doctoral student Silvia Datsin are sociologically measurable by the assessment "enormous". Congratulations Silvia! I`d like to thank to the Head of the Department Assoc. Prof. Dr. Andrey Nonchev, to all the colleagues from the Department and to the Administrative Secretary as well as to all the colleagues from the university who have helped us - thank you for your commitment and for your generous intellectual support. I`d like to thank also to the Managing body of the university and personally to Prof. D.Sc.(Econ.) Statty Stattev, to the Vice Rector for Scientific Research Activity Prof. Dr. Valentin Goev and to the Vice Rector for Education in EQD of Master and Distance Learning Assoc. Prof. Dr. Stela Raleva – thank you for your confidence and faith in miracles that incited me to the unknown with the hope that something new and good for the university could happen. It came true. Congratulations to our new Doctor in Sociology at the UNWE!"