Turning into A StartUp Growth Hacker or What Is to Manage An Innovative Business in Bulgaria
"If you hesitate whether to start a business do it now!" By these words Ivaylo Simov, originator of the Eleven strategy motivated the attendants at the meeting-discussion entitled Turning into a StartUp Growth Hacker or What Is to Manage an Innovative Business in Bulgaria. The event was organized by the Management Department with the assistance of the Inter-University Center for Career Development (IUCCD). It was held in the Large Conference Hall.
During the opening of the meeting. From the right to the left: Ivaylo Simov, Elevan, Todor Breshkov, LAUNCHub, Stefan Tsalov, representative of the European Investment Fund, Assoc. Prof. Dr. Angel Marchev from the Management Department, Kiril Yanchev, Angel Kurtev
The moderator of the meeting Assoc. Prof. Dr. Angel Marchev from the Management Department expressed thankfulness to all attending co-organizers and partners: Kiril Yanchev from Able, Atanas Dimitrov, career consultant at the IUCCD, Angel Kurtev, etc. He presented the participants from the European Investment Fund and from both largest investment funds for starting a business – Eleven and LAUNCHuB.
Ivaylo Simov presented to the audience the Eleven Fund and determined it as a large community of investors, mentors and entrepreneurs, as a fund-accelerator providing finance for starting a business by incremental income. Its work is focused on innovative ideas and it creates programmes for successful business, outlined the lecturer.
Participants in the meeting
LAUNCHub was presented by Todor Breshkov. The fund participates as a co-team and engaged partner in all of "the starts up" which means it provides an access to a wide network of experts, technological companies, successful entrepreneurs and investors. Starting up a business is a hard initiative so there are not many people stimulating an innovative business, pointed out Breshkov.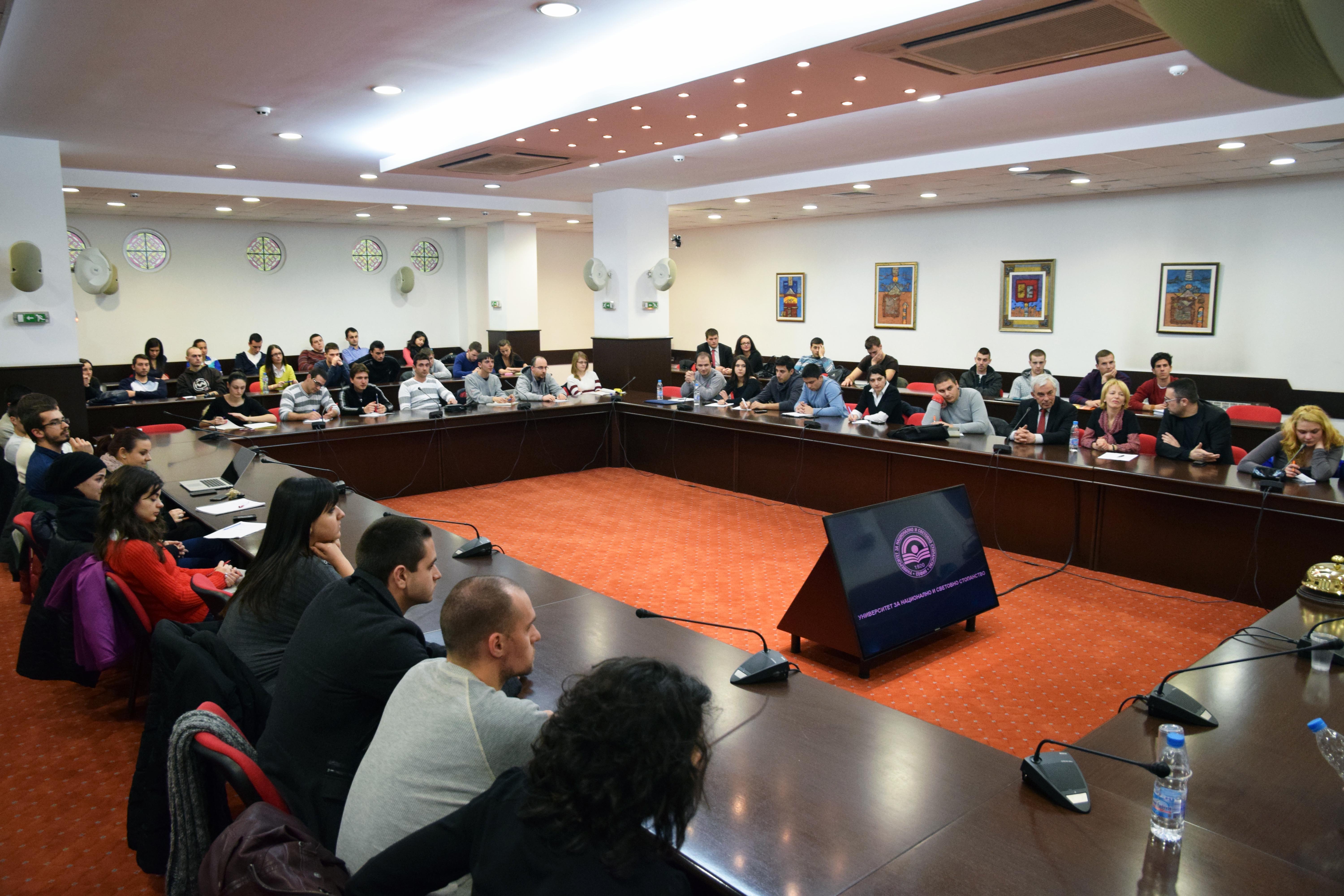 In the Large Conference Hall
Students were more interested in the role of the team for developing a successful company. The teams should be homogeneous and strong, to have an experience for up building, outlined Breshkov. During the meeting were also commented the issues of investments, perspectives for the future, etc.