Graduating Bachelors Were Seen Off with Advice for Two Master Degrees
"One of the purposes of higher education is to let you know where to search solvation of the issues not to give it to you without making any effort". Thus Prof. Dr. Jordanka Jovkova, Dean of the Business Faculty and Head of the Economics of Real Estate Property Department saw off Masters and Bachelors of the Department. She greeted Bachelors also on behalf of organizations where they have carried out their internship – the National Real Estate Association, the International Real Estate Federation – Bulgaria (FIABCI), etc.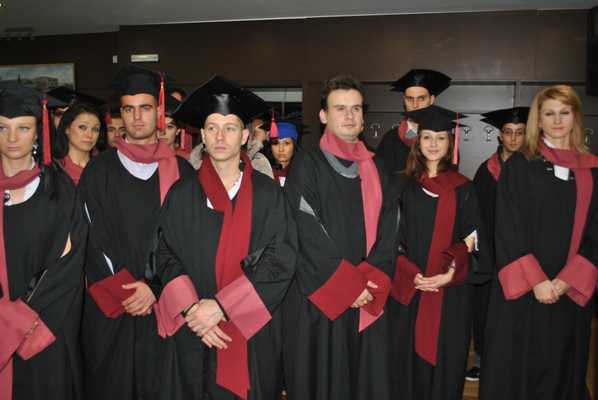 The graduating Bachelors of Science
Prof. Jovkova reminded the graduates that they have chosen the speciality Economics of Real Estate Property during a period of a market peak in that economic sphere. Now the situation is not the same but if you have any doubts about the effectiveness of graduated speciality then your life will disprove them, said definitely Prof. Jovkova.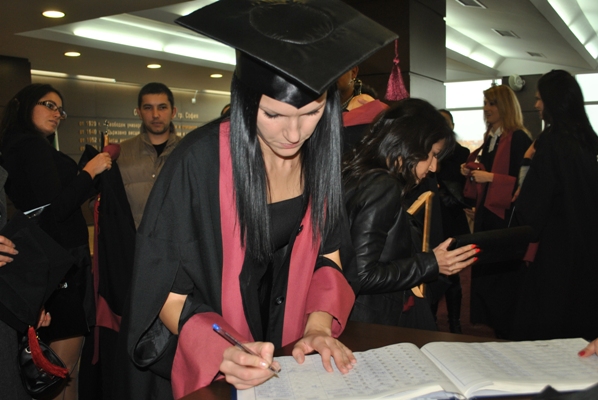 A sign in the Diploma Book
"Young people need not only one but two Master degrees", outlined Prof. Jovkova and advised graduates to complete a Master degree programme at the foreign university but without breaking their relations with the UNWE.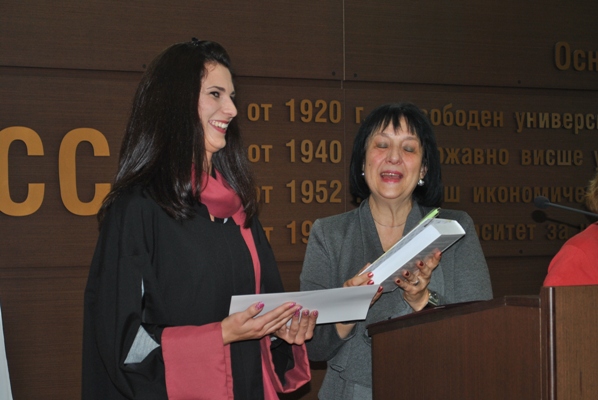 Prof. Jovkova rewarded the excellent graduates also with books.
Excellent graduates among Masters of Science received diplomas and books. There was only one excellent student among the graduating Bachelors of Science. Tsvtelina Asenova was rewarded by a watch which according to the words of Prof. Jovkova should remind her that there was no time and she should quickly choose a speciality for Master`s degree.