Attestation for Their Profession Received Graduates from Speciality Regional Development
In a second consecutive ceremony were given diplomas to Bachelors from the Public Administration and Regional Development Department. This time at the Ceremonial Hall the holiday togas were put on by the graduates from speciality Regional Development. "It is one of the most important moments in your life because you become part of the expert potential of Bulgarian society", defined the event Assoc. Prof. Sonya Dokova. We, lecturers, are confident, you`ll be qualitative rulers not only in a national plan but also in the European Union structures, stated her grounds for pride and optimism Assoc. Prof. Dokova.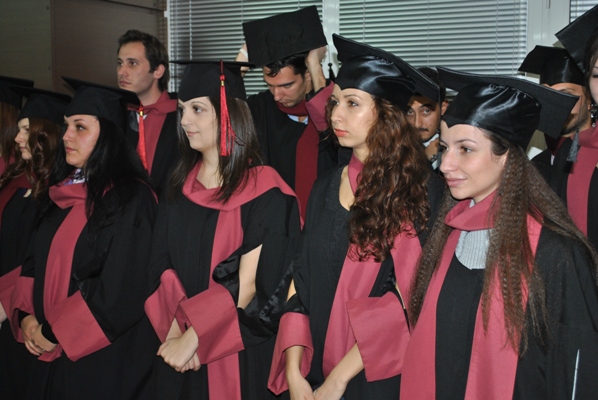 Graduates from speciality Regional Development
Your speciality is a guarantee for high quality and high opportunities for professional realization, greeted the graduates Prof. Dr. Veselka Pavlova, Vice-Rector on Education in the Educational Qualification Degree of Master and Distance Learning. She expressed her expectations to attend also at the ceremony for graduation of Master`s degree by the alumni because their rise in the profession lied ahead them. "Your speciality has approved as one of the best ones and speciality Regional Development is already as a trade-mark for UNWE, outlined Prof. Pavlova.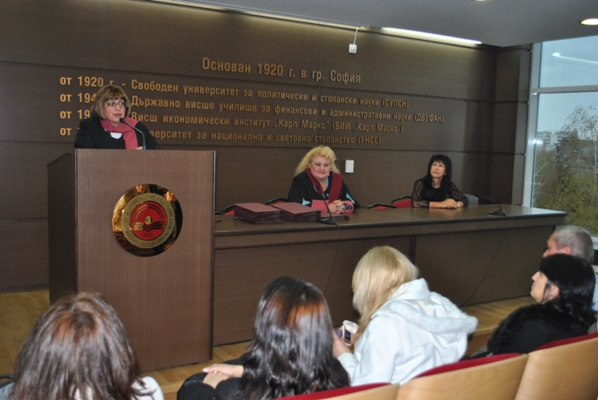 Prof. Dr. Veselka Pavlova is saluting the Bachelors.
A reason for pride and high self-confidence is to graduate from the university with the highest institutional accreditation in our country and very good positions in Europe, said Prof. Pavlova who greeted the graduating students also on behalf of the Rector of UNWE Prof. D.Sc. (Econ.) Statty Stattev. The Vice-Rector outlined that only a few days ago UNWE has obtained again the highest rating of 9, 65 among the universities in the country and it continued to be a leader in the university education.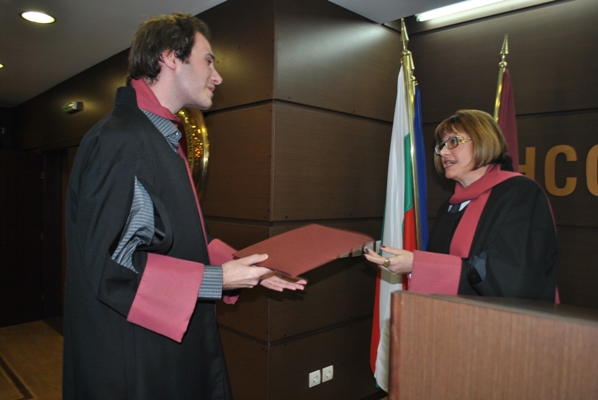 Prof. Pavlova is giving the diploma to the only one excellent student.
Prof. Dr. Tsvetka Stoencheva, Vice-Dean of the Management and Administration Faculty and Deputy Head of the Public Administration and Regional Development Department appealed young graduates to keep the university honour and dignity and wished them health and success.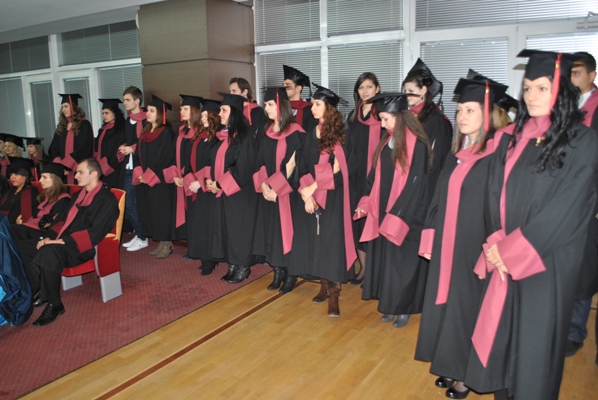 At the Ceremonial Hall