The UNWE Increases the Salaries
An increase of remuneration at the UNWE announced the Rector Prof. Dr. Dimitar Dimitrov at the opening of the new academic year and invited the Chairpersons of the University Syndicate Organizations to sign the Annex to the Collective Agreement. "The increase is possible as a result of the implemented good admission of students", said the Rector.
Their signatures under the Annex, along with Prof. Dimitrov, laid Assoc. Prof. Dr. Boyka Cherneva, Chairwoman of the Syndicate Organization at National Branch Syndicate of Higher Education and Science /VON-KNSB/, Dr. Stanimir Stamatev, Chairman of the Syndicate Section of Higher Education at Confederation of Labour Podkrepa and Prof. Dr. Miroslava Rakovska, Chairwoman of the Syndicate Organization at Democratic Syndicate Association /in the pictures below/.
"We have the opportunity to increase the remuneration of all lecturers and employees", opened the meeting Prof. Dimitrov. He pointed out that he was ready with his proposal in June but he was waiting for the adoption of the budget. "A decree is now expected to give additional funds to lecturers. I have in mind the 16 million that the Council of Ministers distributes to 34 universities. What we did with our own funds was to increase the salaries of the administration", outlined the Rector.
For the lecturers the percentage is not the same but the difference between the academic positions is observed. The greatest increase occurs for the young scientists and assistants. The increase takes effect retroactively, from 1 August, 2023.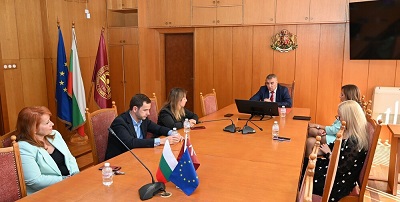 The meeting was attended by the Director of the Rector's Office – Gergana Kirilova and the Director of Human Resources Directorate Ina Balabanova /on the right/
Within the frameworks of the discussion Assoc. Prof. Boyka Cherneva outlined the consistent income policy pursued by the Rectors Managing Body. "I witnessed the difficult negotiations that took place at the level of the Ministry of Education and representatives of the Council of Rectors and Syndicates. So in this sense, I can only express thankfulness that quickly and on time, driven by the necessity, the remunerations were updated."
Dr. Stanimir Stamatev expressed thankfulness to the Rector for the good dialogue and reminded that it is the fifth increase of remuneration within his mandate. Prof. Miroslava Rakovska proposed specific measures to stimulate the employees which will be discussed at the upcoming Extended Academic Council in Ravda.