4th Doctoral Students Seminar of the Media and Public Communications Department
The Media and Public Communications Department held the 4th Doctoral Students Seminar where 8 scientific papers were presented. Assoc. Prof. Dr. Svetla Tsankova and Dr. Georgy Minev, moderators of the Seminar, opened the event which has already become a tradition for the Department.
"These seminars help the PhD students in their work on their dissertations", said Dr. Georgy Minev and Assoc. Prof. Dr. Svetla Tsankova added: "It is also an opportunity for PhD students to train their presentation skills necessary at the defence of their dissertations."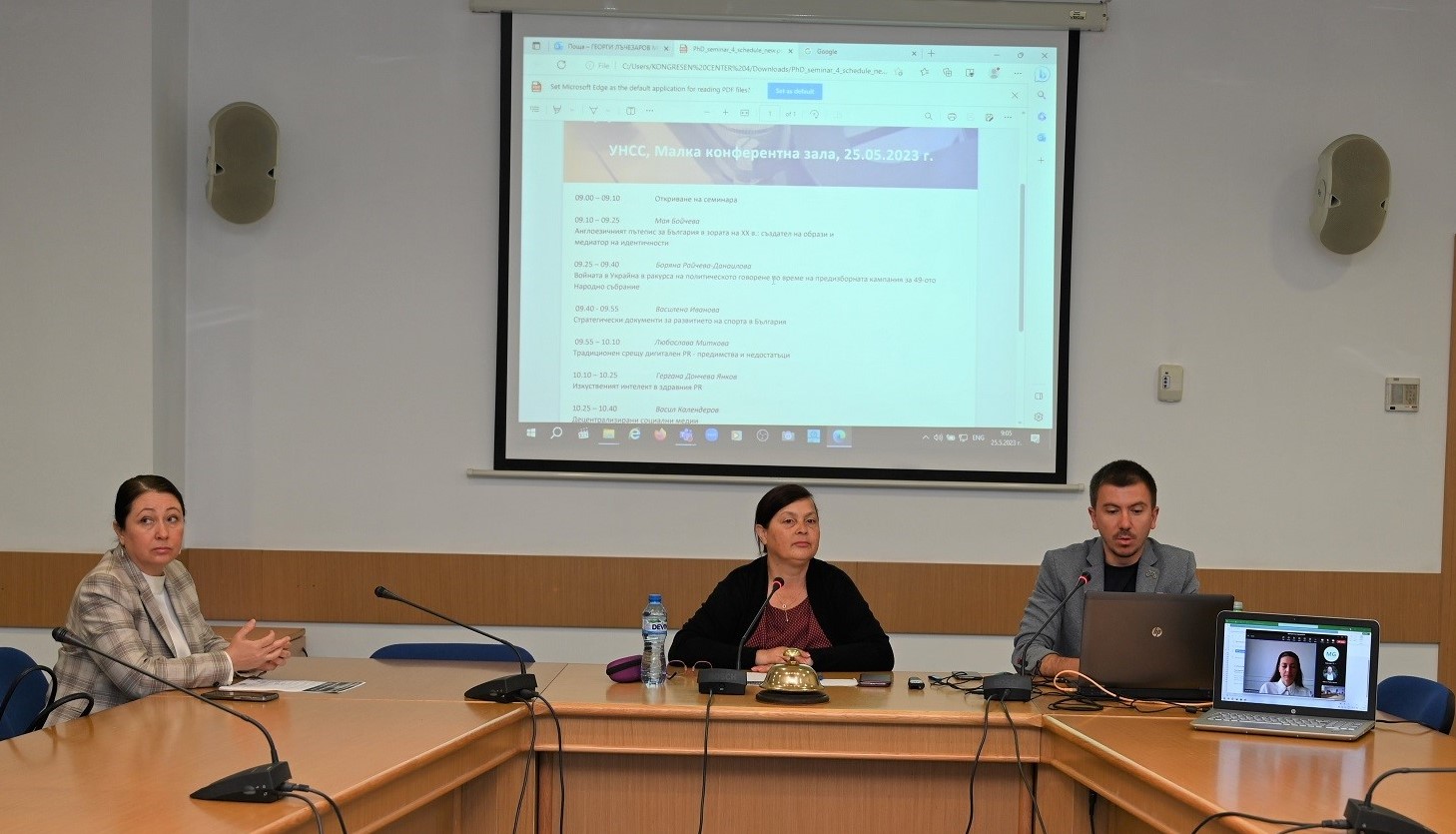 Assoc. Prof. Dr. Stella Angova, Assoc. Prof. Dr. Svetla Tsankova and Dr. Georgy Minev
Assoc. Prof. Dr. Stella Angova, Head of the Media and Public Communications Department, greeted the participants and outlined that since last year the Department is officially a UNESCO Chair in Media and Information Literacy and Cultural Policies for Sustainable Development, which in addition to the recognition brings with it the responsibility to improve the quality of training and to strengthen the scientific and publishing activities and the Seminar is entirely oriented in this direction.
The first presentation was by Maya Boycheva on the English Language Travel Book for Bulgaria at the Dawn of the XX Century: Creator of Images and Mediator of Identities".
Boryana Raycheva-Danailova presented her study on the War in Ukraine in the Perspective of the Political Discourse during the Election Campaign for the 49th National Assembly.
Vasilena Ivanova presented the Strategic Documents for the Development of Sport in Bulgaria. She made a comparative analysis and pointed out the fulfilled and unfulfilled objectives of the state policy.
Lyuboslava Mitkova's topic was the Traditional vs. Digital PR - Advantages and Disadvantages. She pointed out the convenience of digital technologies and their use as an important tool in the modern public communications.
Gergana Doncheva Yankov spoke about the Artificial Intelligence in Health PR as the whole development was based on her interview with the ChatGPT chatbot. She concluded that the artificial intelligence could be an assistant but it couldn`t completely replace the human factor.
Vasil Kalenderov spoke on the topic Decentralized Social Media paying attention to the regulation in the sector and the possibility of transferring users to alternative social sites.
Simona Nanova presented a research on the Streaming Performing Arts - Necessity or Extra. Opinions of Theatre Organizations Managers with a focus on technological challenges and their effect on theatre activities.
Maria Konstantinova's presentation was on the Impact of COVID-19 on the Structure of Morning TV Blocks in Bulgaria in the Period 2020-2023. She analyzed the topics, content, interlocutors and approach of TV journalists to the theme of the global pandemic and the new structure of morning shows.
The Seminar ended with questions and recommendations for the PhD students. The papers will be published after peer review in CEEOL.
---
The next edition of the Seminar will be on 27 May 2024.
---