Lecturers from the University of Dubrovnik Delivered Lectures at the UNWE
In the period of 20-24 February 2023 guest lecturers at the UNWE Marketing and Strategic Planning Department were Prof. Dr. Ivona Raguz and Assoc. Prof. Dr. Katya Bakiya from the University of Dubrovnik, Republic of Croatia. They visited Bulgaria within the frameworks of the EU Erasmus+ Programme for exchange of lecturers and delivered a series of lectures to the students of speciality Marketing and Strategic Planning taught in English.
The students studying the discipline Business Planning led by Assoc. Prof. Dr. Yovka Bankova were acquainted by Prof. Dr. Ivona Raguz with the modern issues of management and in particular, the importance and place of planning and leadership in the process of organizations management. The students were presented the results of an actual scientific study including empirical results from a personal study of Prof. Raguz on human resource management in the conditions of the Covid and post-Covid period with focus on the change in employees' work habits and mode preferences. The interactions and relations between the different generations of employees in a digitalized environment were a topic for discussion.
During the lectures on Marketing Planning led by Chief Assist. Dr. Borislava Stoimenova the cultural heritage market in the Republic of Croatia was examined by Assoc. Prof. Katya Bakiya who also presented the strategies and tactics for promoting various cultural sites in Dubrovnik. The House of Marin Drzic was considered as a multifunctional site - monument, theatre, museum, historical archive and gallery attracting visitors from all over the world. Assoc. Prof. Bakiya paid special attention to the marketing activities that raise awareness and interest of tourists to the site.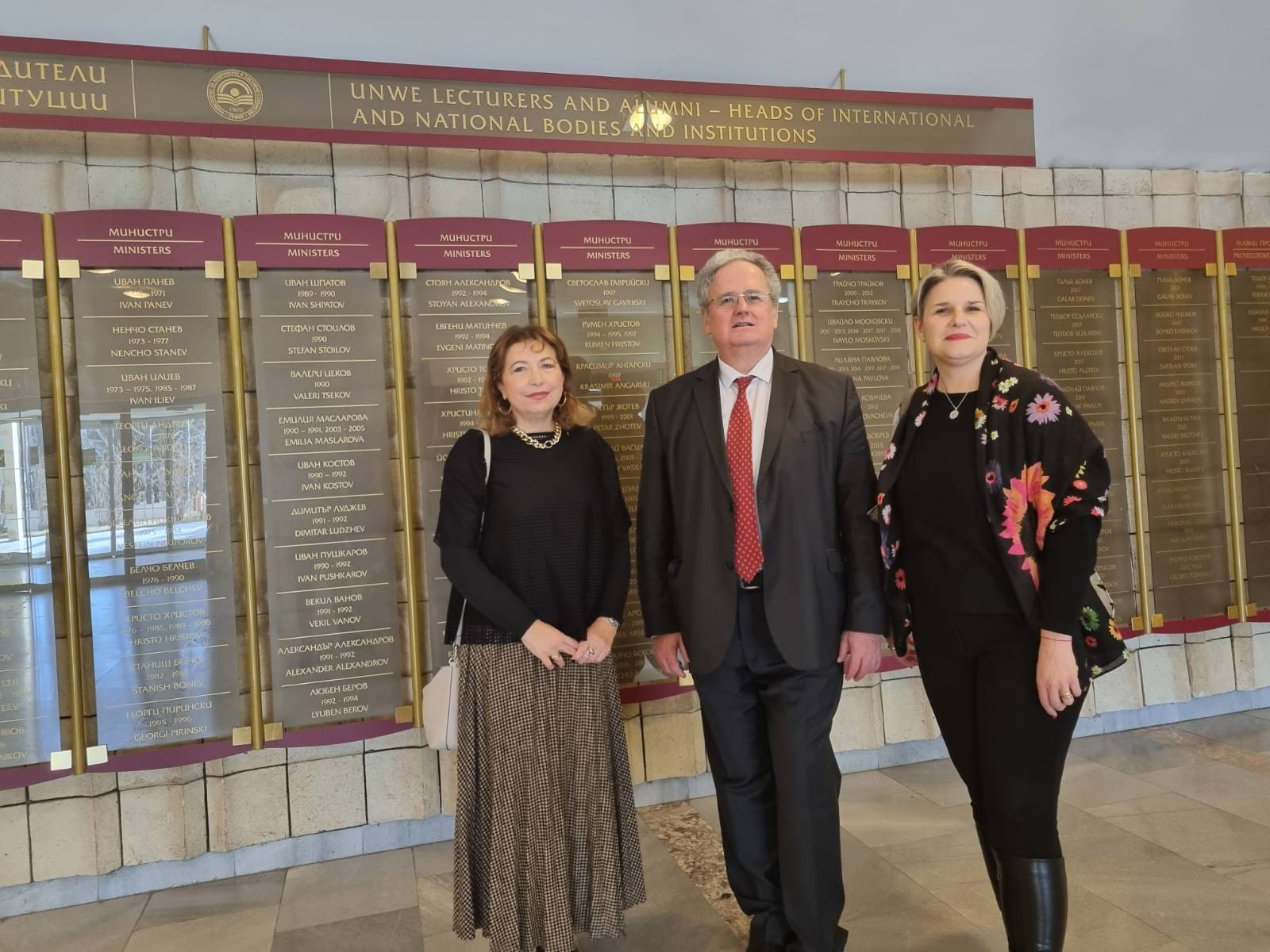 Prof. Dr. Ivona Raguz, Prof. Dr. Hristian Tanushev and Assoc. Prof. Dr. Katya Bakiya /from the right to the left/
In the frameworks of the visit organized at the invitation of Prof. Dr. Hristian Tanushev it was exchanged information on upcoming scientific conferences at both universities, opportunities for publication of scientific research, development of joint scientific projects that reflect the specificity of economic and social processes in Southeast Europe.