Joint Master`s Degree Programmes between the UNWE and Abertay University
At the end of February 2023 the final meeting between the UNWE and representatives of the Abertay University Approving Committee was held to approve, evaluate and vote on two new joint dual Master's degree programmes - MBA on Global Operations and Analytics and MBA on Digital Marketing and Transformation which will be led by the Management Department and the Marketing and Strategic Planning Department respectively. The UNWE obtained a very high evaluation for the efforts made as well as for the proposed modules and courses and the positive decision to launch the programmes was taken by a full majority. Discussions on the merits of including colleagues from Abertay University in teaching continue and the receipt of the final report is awaited.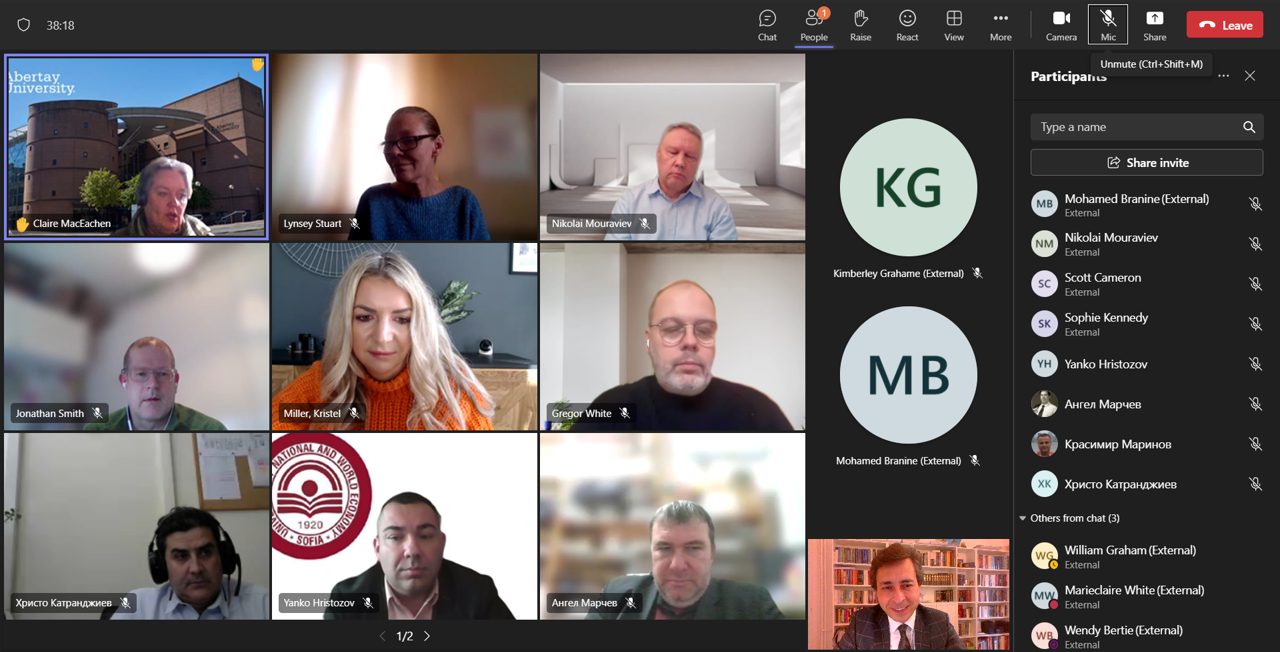 By the UNWE part the meeting was attended by Assoc. Prof. Mihail Musov, Vice Rector for Research and International Cooperation, Assoc. Prof. Yanko Hristozov, Secretary General for International Affairs, Prof. Hristo Katrandjiev, Head of the Marketing Department, Prof. Krasimir Marinov and Assoc. Prof. Angel Marchev, Vice Dean for Research of the Management and Administration Faculty. By the Abertay University part in the meeting participated Mohamed Branine, Claire MacEchen, William Graham, Nikolai Mouraveev and other colleagues.
The Master's degree programmes will have duration of three semesters and graduates will receive diplomas from both institutions. The programmes will start in the new academic year 2023/2024. Students will have full access to Abertay University's research databases and online library.
---
Abertay University is located in Dundee, Scotland. The University is one of the fastest growing modern universities in the UK having won a number of awards in recent years for the Best University. The main advantage of teaching at Abertay University is the practical orientation of lectures and the organization of classes with different focuses to bring together students from all over the world.
---