UNWE and Northern Illinois University - USA Officially Opened the First in Bulgaria Double Master's Degree Programme in Business Administration
UNWE and Northern Illinois University /NIU/ - USA officially opened the first of its kind in Bulgaria Double Executive MBA Programme.
The Programme was presented by the Rector of UNWE Prof. Dr. Dimitar Dimitrov and the Dean of NIU College of Business Dr. Balaji Rajagopalan with the participation of Mrs. Annie Filipova, NIU Program Director for Eastern Europe and member of the Alumni Board of UNWE. Special guest for the event was the Deputy Minister of Education and Science Prof. D.Sc./Philology/ Genka Petrova-Tashkova.
"I believe our university will be a great partner. It was not easy to start this Programme, it was a huge challenge. The UNWE has several other dual programmes but we want to see more and more of them. Sometimes it is difficult for foreign students to come and study in Bulgaria that`s why we create these Bachelor`s and Master`s degree programmes", said the Rector of UNWE Prof. Dr. Dimitar Dimitrov.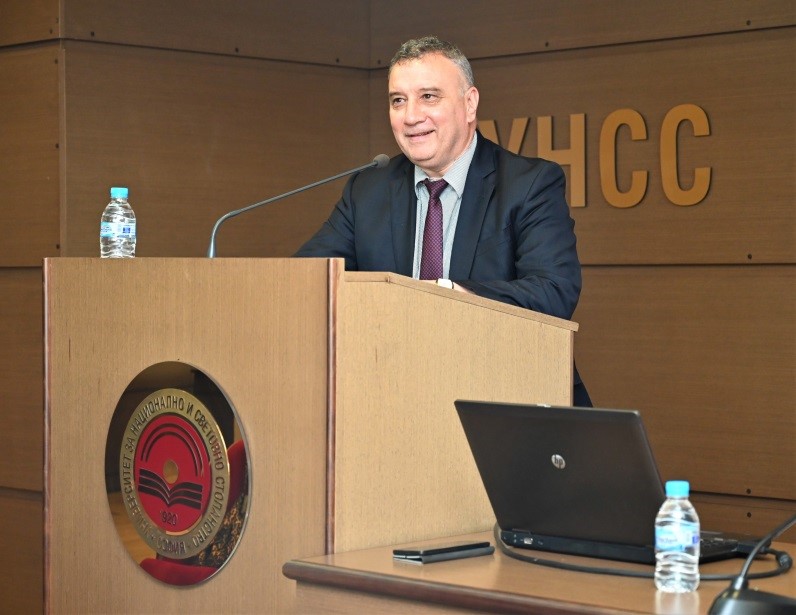 Prof. Dr. Dimitar Dimitrov
The Dean of NIU Dr. Rajagopalan expressed his thankfulness to Prof. Dimitrov for the provided opportunity and outlined: "I am happy that we have the chance to start this dual Master's Degree Programme because for our university it is the first dual programme with a university in Europe. We have partnerships with universities in Italy and Germany but it is the first time we will be starting a joint programme. We have such programmes in Asia and South America but we don't have one in Europe so it is a historic moment for our university that we are starting a joint programme with a Bulgarian university."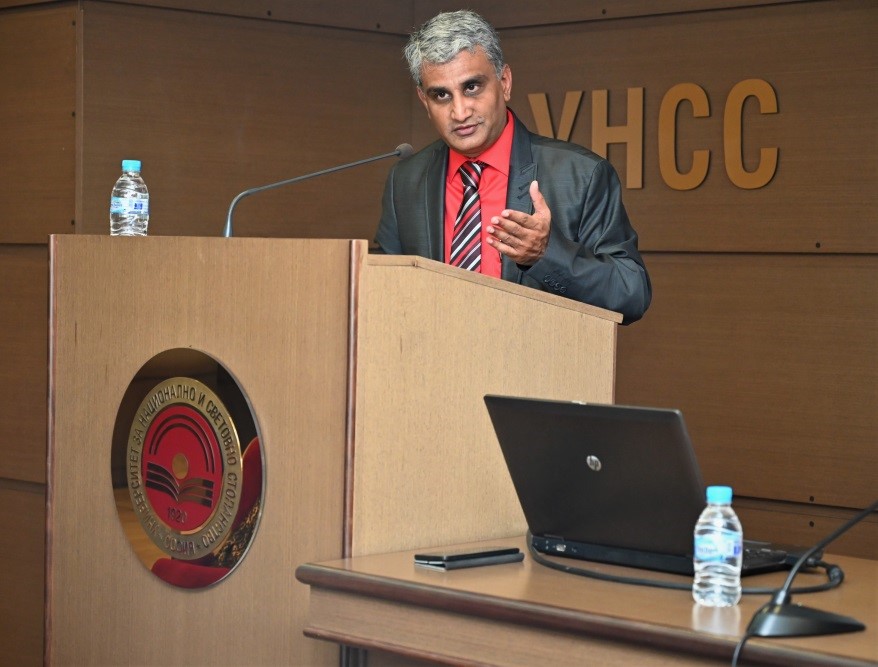 Dr. Balaji Rajagopalan
During the presentation of NIU Dr. Rajagopalan pointed out some of the famous and successful personalities who have graduated from the prestigious college. Among them are the names of Kelly Rogan, Corporate Vice President of Strategy at Microsoft, Matt Thompson, former CEO of Adobe, Joan Botarini, CFO of Hyatt, Alex Cummings, former CEO of Coca-Cola,etc.
"I am glad to be at the UNWE at this historic moment because I know very well what it means to create and organize a joint programme with a foreign university, I have experience in this", said Prof. D.Sc./Philology/ Genka Petrova-Tashkova and pointed out: "It is remarkable for me that you have managed to solve the problem of issuing a double diploma which is really of great benefit to students. I wish success to the new Programme, it is a huge achievement because it is strategic, both for our country and for the university I graduated from 30 years ago, for our students. I wish you to attract many international students. Good luck!"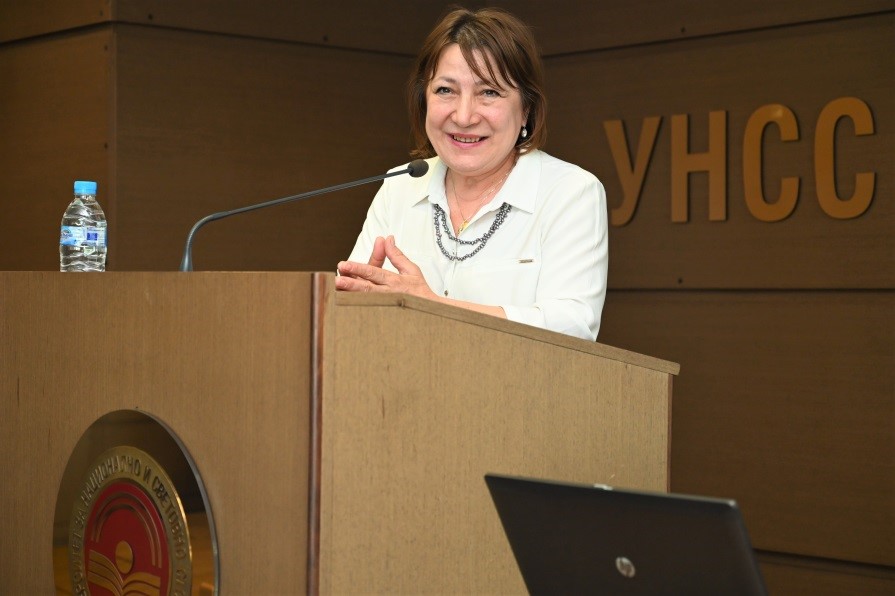 Prof. D.Sc./Philology/ Genka Petrova-Tashkova
Annie Filipova, a longstanding banker and former Chief Operating Officer of Citibank Treasury and Trade Solutions in Asia, presented the programme in details. "One of my goals was to contribute to the community and after a series of chance encounters we have come to this point, so I want to thank everyone who has made the project possible", said Mrs. Filipova and added: "The Programme will allow young people to develop their entrepreneurial skills because the future is in entrepreneurship. It is focused on very important disciplines for our time one of which is the digital transformation and it happens when you have an entrepreneurial spirit. This Programme will prepare young people for the future."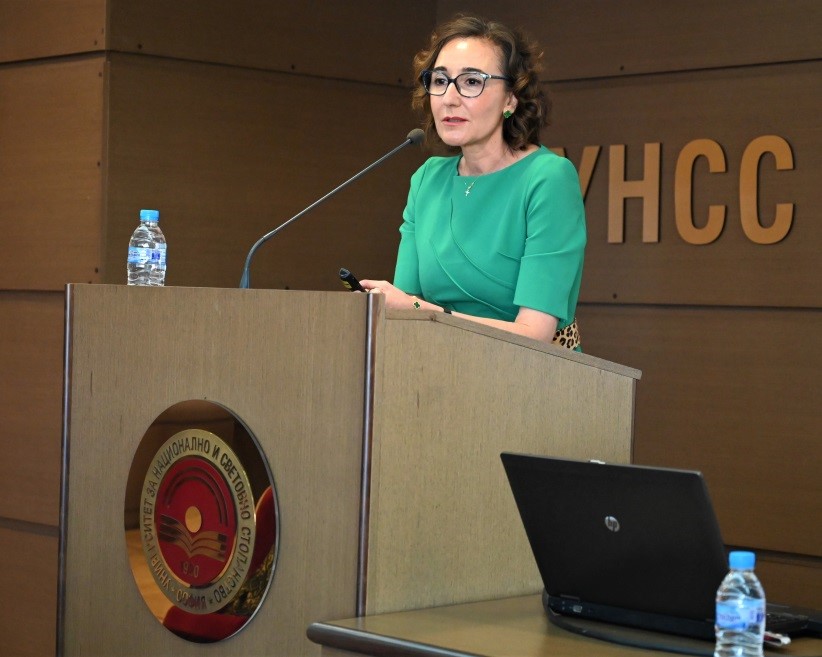 Annie Filipova
The event was also attended by Mark Nordberg, Counselor for Political and Economic Affairs at the Embassy of the United States of America in Bulgariaq Sofia. He greeted the representatives of both universities on the occasion of the opening of the Programme and read a Greeting Address on behalf of the U.S. Ambassador to Bulgaria H. E. Herro Mustafa to Prof. Dimitar Dimitrov.
Mark Nordberg
"I am sure it will be an outstanding partnership that not only benefits the students of both esteemed institutions but also strengthens educational ties and the sharing of best practices between our two countries", is said in the Greeting Address.
"As pioneers in this type of cooperation UNWE and NIU are setting an excellent example of how Bulgarian and American universities can join forces to boost academic excellence and economic opportunity in Bulgaria. Education is key to unlocking a bright and promising future for our youth, who are the leaders of tomorrow", points out H. E. Herro Mustafa. The full text of the Greeting Address can be found here.
At the opening of the Programme attended also Prof. Dr. Miroslava Rakovska, Vice Rector for Educational Activity, Assoc. Prof. Dr. Mihail Musov, Vice Rector for Research and International Affairs, Assoc. Prof. Dr. Rosen Kirilov, Vice Rector for Digitalization and Cybersecurity, Assoc. Prof. Dr. Radko Radev, Director of the UNWE Alumni Center.
The Programme starts in the new academic year and the training will be conducted in person at the UNWE by joint teams of lecturers from both universities. The double Master's degree speciality in Business Administration will be taught in English and it is open to students from Bulgaria and any other country both in Europe and beyond. Graduates of the Master's degree programme will obtain two diplomas - from the UNWE and from the Northern Illinois University /NIU/.
The Programпе is designed for students with Bachelor's degree who would like to have better career opportunities at their country and abroad by improving their knowledge in finance and areas such as digitalization, environmental and social governance /ESG/, entrepreneurship as well as to build on their knowledge in finance if they have graduated technical or other speciality.
The Double Executive MBA Programme is also aimed at professionals who are looking for a Master's degree programme suitable for improving their qualifications and managerial competencies. It aims to broaden the career scope, prospects and job opportunities of students enrolled in it.
The Programme offers a unique opportunity for employers to enhance the knowledge of their employees and prepare them for the future, thus creating the next leaders in the organization.
The Double Executive MBA Programme covers disciplines such as leadership, digital transformation, entrepreneurship, environmental and social governance /ESG/, sustainability, financial analysis and cost management, global supply management, etc. It offers a unique opportunity for each individual to become relevant in a new, global, virtual and rapidly changing world of work. The courses provide all you need to build on your knowledge on actual topics and become competitive in local, regional and global markets.
---
The NIU College of Business /NIU COB/ has been accredited by the Association to Advance Collegiate Schools of Business /AACSB/ since 1969. Less than four percent of business colleges worldwide have earned such accreditation, the highest credential of excellence for business programmes. Northern Illinois University has accredited its MBA programme since 1977. Over the decades the curriculum has been continually updated and innovated to meet the current demands of dynamically changing business industry and international organizations.
---