UNWE and the American Delta State University Work on a Joint Postgraduate Programme
The UNWE and Delta State University, Mississippi, USA, prepare a joint postgraduate programme for students from both higher education institutions. Their objective is to provide students with knowledge at a high academic level with a strong practical focus.
William LaForge, President of Delta State University, came on a visit to UNWE at the invitation of Prof. Ph. Zhivko Draganov, Director of the Institute for Postgraduate Studies and Head of the Department of International and EU Law.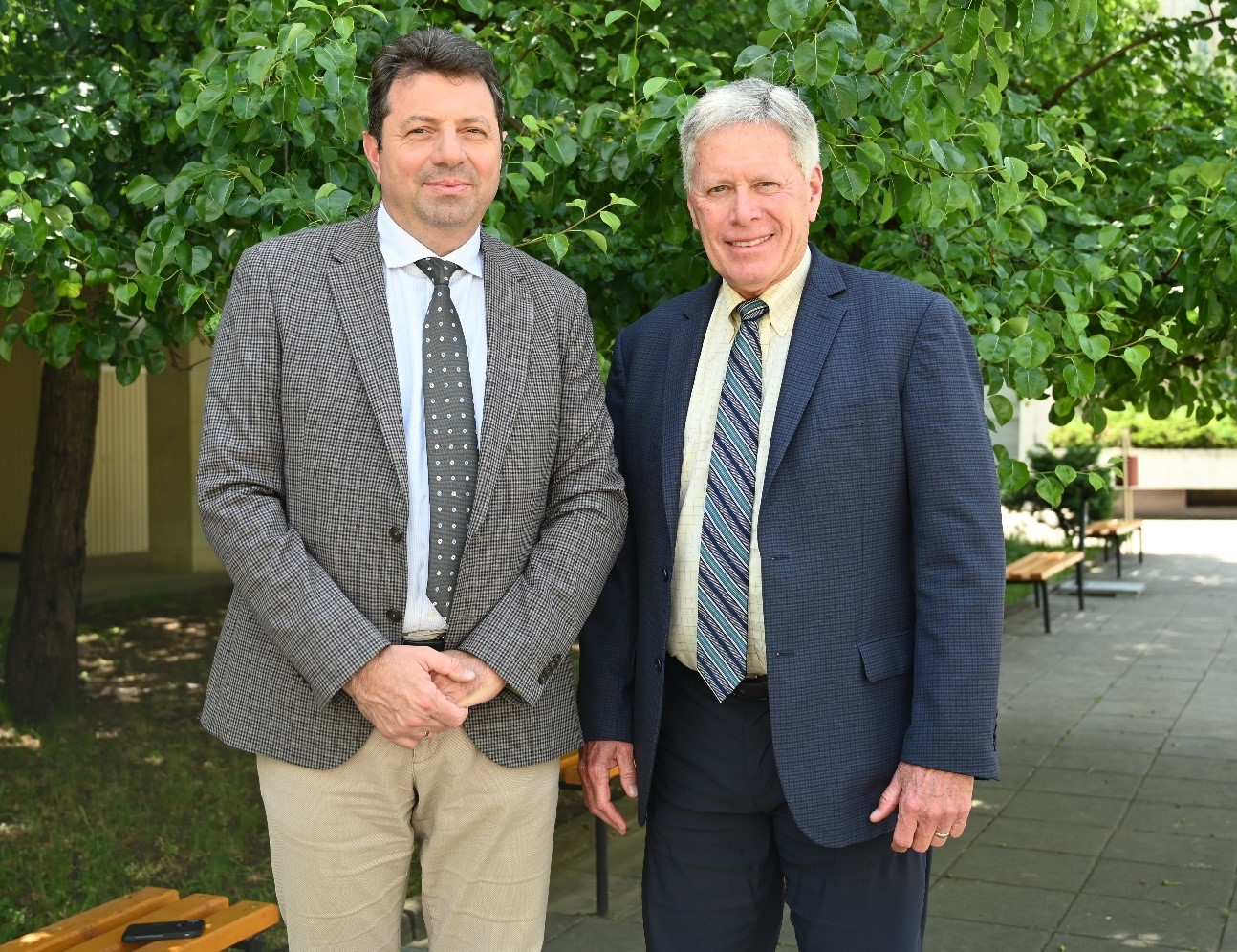 William LaForge and Prof. Zhivko Draganov /from the left to the right/
Prof. Draganov and Mr. LaForge clarified the parameters of their future work together. "I am happy to be a guest lecturer at the Law Faculty of UNWE. I have come to your university three times as a lecturer. The last invitation came to me from Prof. Zhivko Draganov to establish cooperation between the Institute of Postgraduate Studies at UNWE and Delta State University. Our objective is to establish joint postgraduate programmes as well as exchange of lecturers and students", said William LaForge.
Mr. LaForge was the first lecturer in the course on American Law at the Law Faculty of our university /2006/. He is a specialist with extensive practical experience as a lawyer and also in the US Congress. He has served as President of the Federal Bar Association of the United States and as a longtime faculty member at George Washington University. Since 2012, he has served as President of Delta State University. Mr. LaForge noted that he has always enjoyed teaching to students from the Law Faculty of UNWE.
"I think they are very inquisitive and smart. I would encourage anyone who wants to study Law to enroll studying Law at UNWE because there is a lot of commitment from the faculty members. They pay special attention to their students and train them so that they develop into highly qualified professionals", said Mr. LaForge.
---
Delta State University in Cleveland, Mississippi was founded in 1925. Students from all American. states and more than 50 countries study in it. The University offers a wide range of educational, cultural and sports activities and maintains partnerships with the business, local governments and a number of public organizations. Students graduating from Delta State University are well prepared to make a career in the dynamically changing global economy.