UNWE Opened the First University Start-Up Office Along with the Presentation of Ideas to Cope with Climate Changes
The University of National and World Economy officially opened the first of its kind university centre to support student entrepreneurship - a Start-Up Office. The initiative was launched by the Rector Prof. Dr. Dimitar Dimitrov.
Along with it the joint event of the UNWE and Junior Achievement Bulgaria also took place. Ideas for coping with the climate changes were presented in it.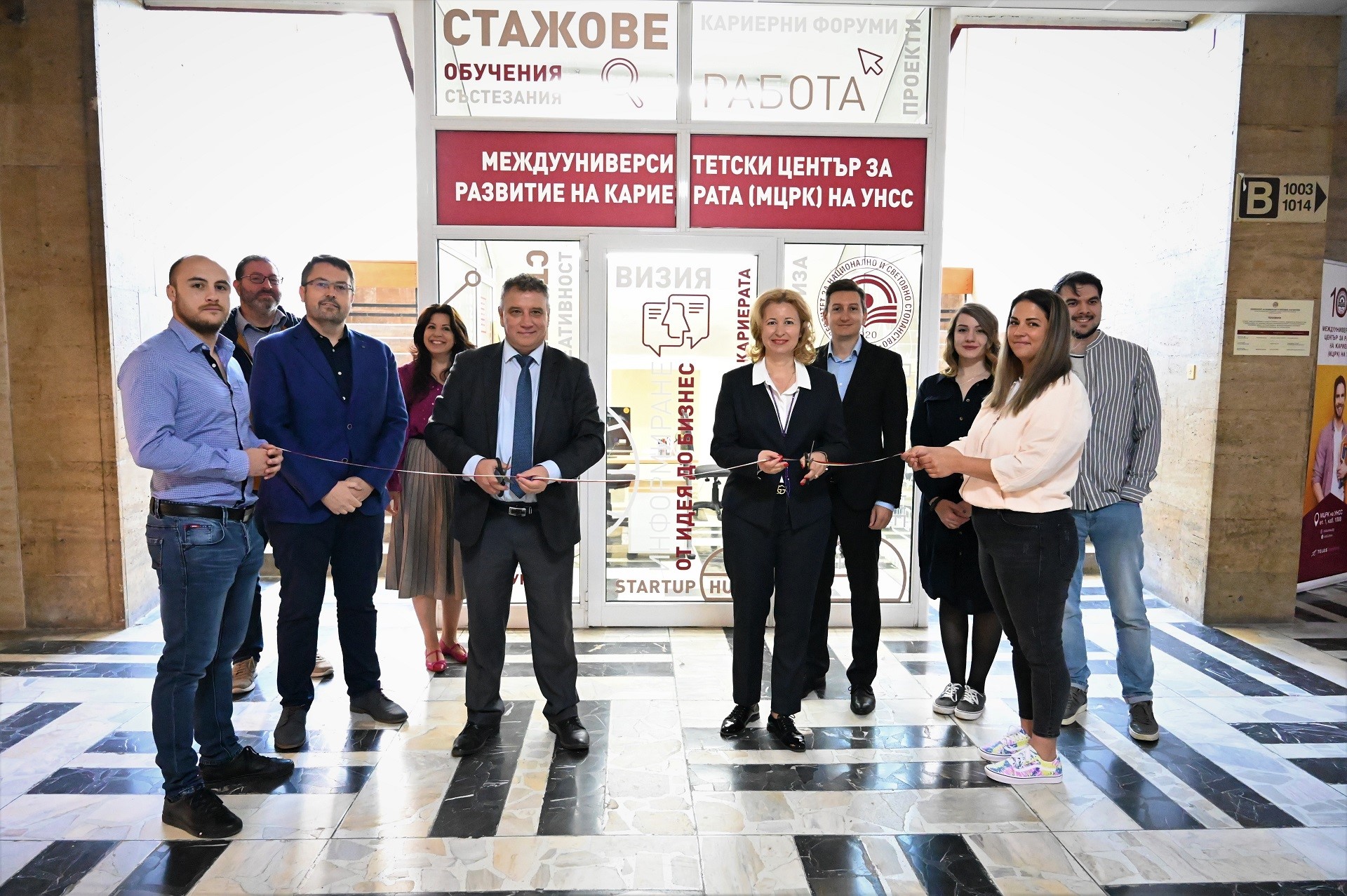 The Rector Prof.
Dr.
Dimitar Dimitrov and Prof.
Dr.
Tsvetana Stoyanova, Vice-Rector for Institutional and Business Cooperation and Student Policies gave a symbolic start to the Entrepreneurship Centre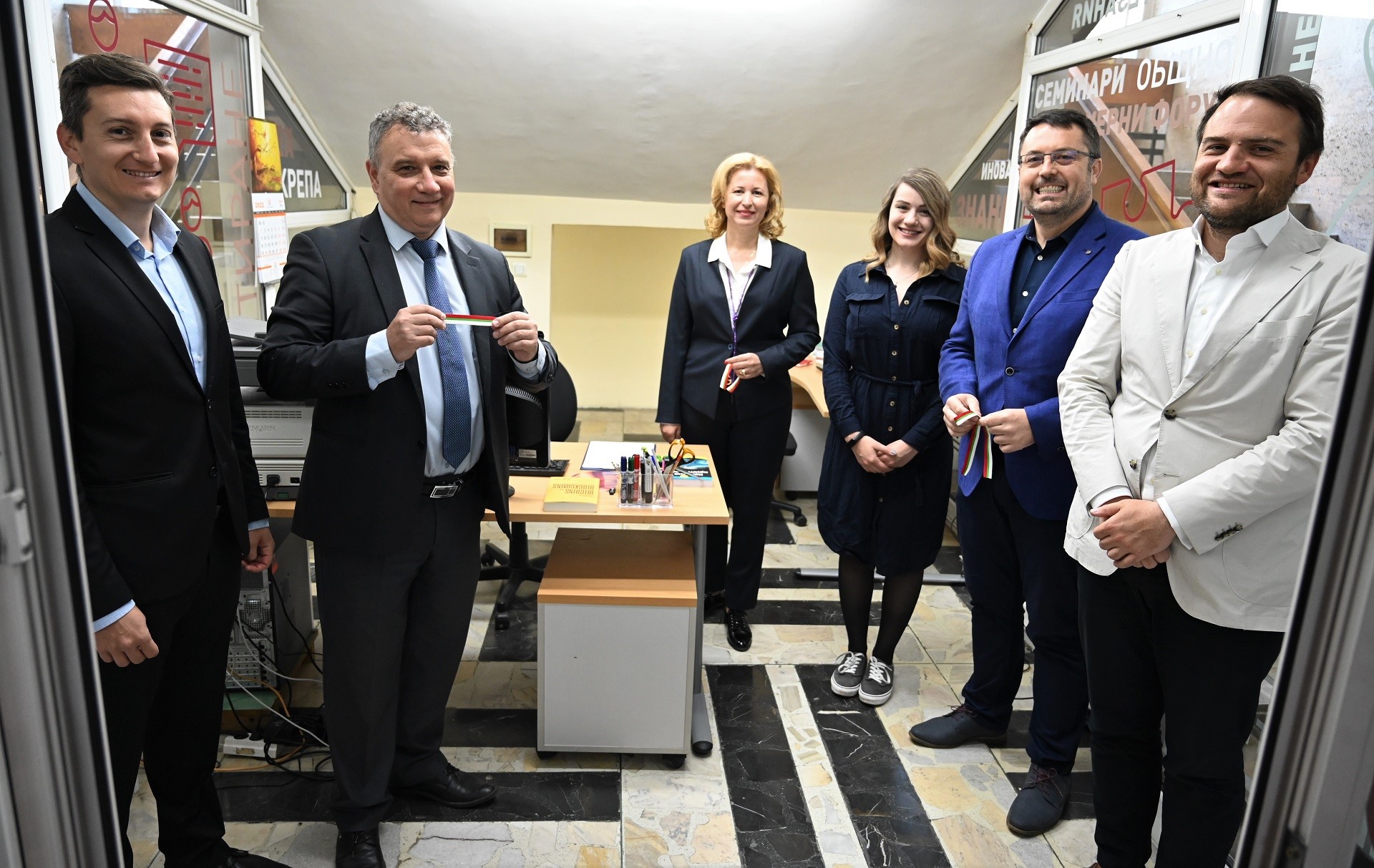 At the opening of the event Prof. Dimitar Dimitrov outlined that a qualitatively new moment in our university is being set up which enables students to implement their ideas from innovation to the realization. He paid attention to the fact that an example of innovation is also the event for the presentation of ideas to cope with the climate changes. The Rector reminded that Assoc. Prof. Kristalina Georgieva, whom a few days ago was awarded the honorary title of Doctor Honoris Causa of UNWE, started her career in the 1980s with an innovative idea at that times such as the economics of ecology.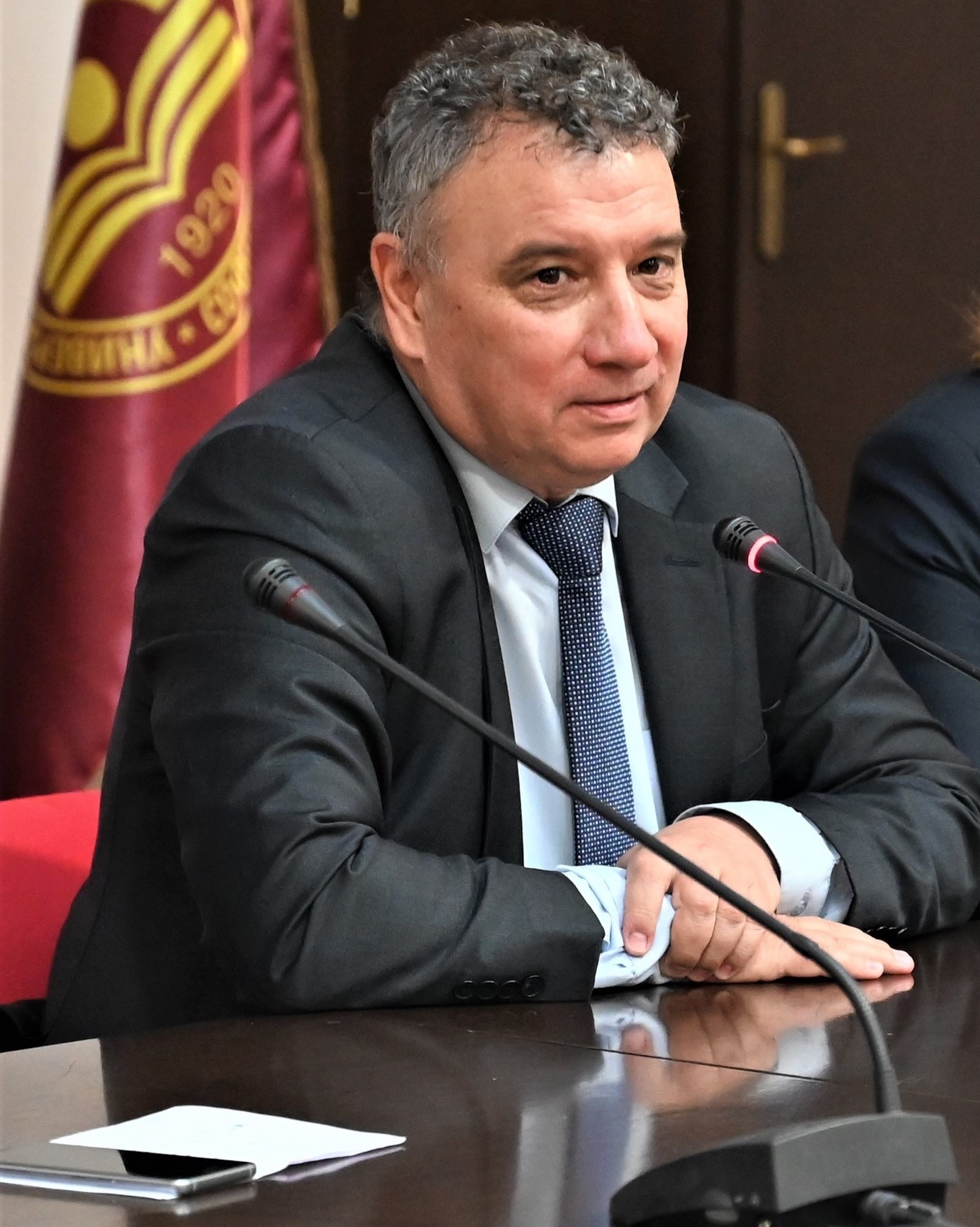 Prof. Dr. Tsvetana Stoyanova, Vice-Rector for Institutional and Business Cooperation and Student Policies, said that it is a good day for the start-up system, including at our university, because on the one hand we are opening the start-up office, on the other - an event which is a product of the 10-years joint activity of the University with Junior Achievement Bulgaria. Prof. Stoyanova outlined that the merging of these two events is a desired effect. "They provide an opportunity to bring together successful business representatives who have began with start-up companies and our students - future representatives of the business elite. Climate changes has been an integral part of our daily lives for the last 20 years and we are witnesses of the consequences of these changes every day. It provides an opportunity of new ideas for startups for coping with these changes."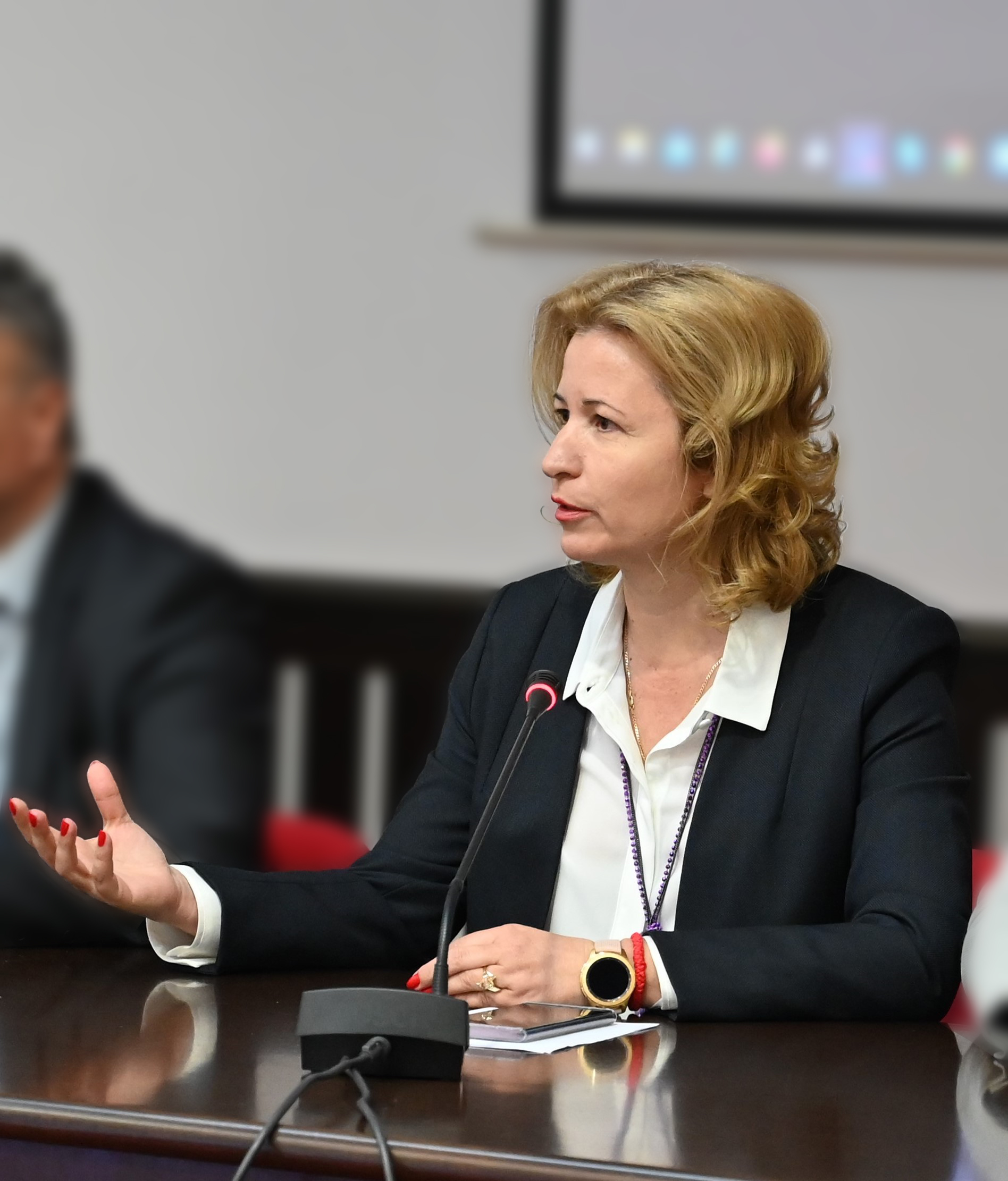 Atanas Dimitrov, Director of the Inter-University Center for Career Development, said that he wanted to focus on two things: "Firstly, - the Start-Up Office is created in the Inter-University Center for Career Development because the it is different from other centers of that kind. It is the only interuniversity center, the only one with a pool for disadvantaged students, the only one with a Eurodesk point, and now the only one with a Start-Up Office. And secondly, the world goes through historic challenges of which we all are witnesses. However, the desire for progress continues. On the contrary. These turbulent times demand not only new ways of thinking and priorities, but also new technologies. It is also time for a new generation of entrepreneurs which we sincerely hope will be built by our students." Dimitrov pointed out that the Start-Up Office will provide an opportunity for networking, partners and investors; it will assist students with bold ideas to work with some of the best in the startup ecosystem. "It will be rewarding for all of us if this good idea is sustainable over time and evolves."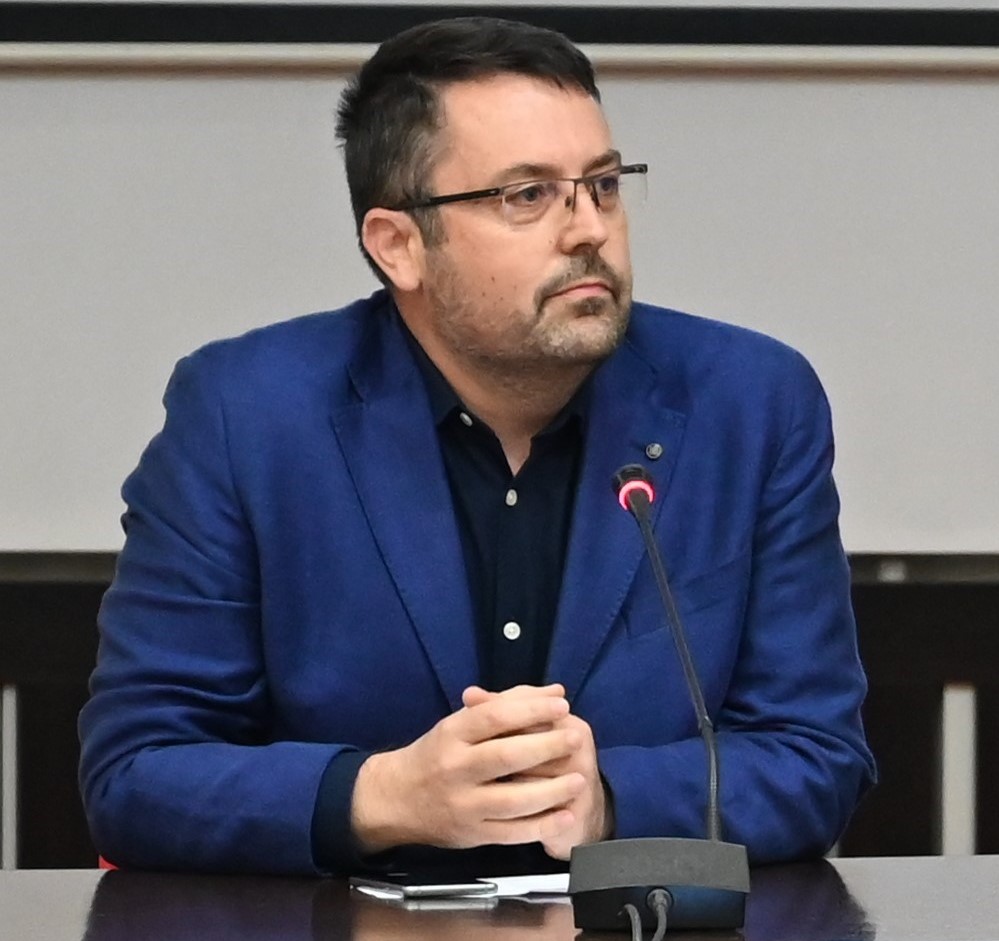 Atanas Dimitrov: "The Start-Up Office is
an
inspiration and new opportunities! Visit us
right
now!"
Angel Stoykov, Chairman of the Student Council, pointed out that he welcomes the fact that students will have a chance to show their ideas and will be even happier if they also succeed to implement them. "Having an office like this gives the students a great opportunity to do something related to our university that has given them a hand and if it is successful they could be supportive and to help the university. I would love if I see after this double event to come out people who are ambitious and have ideas to solve the climate changes as well."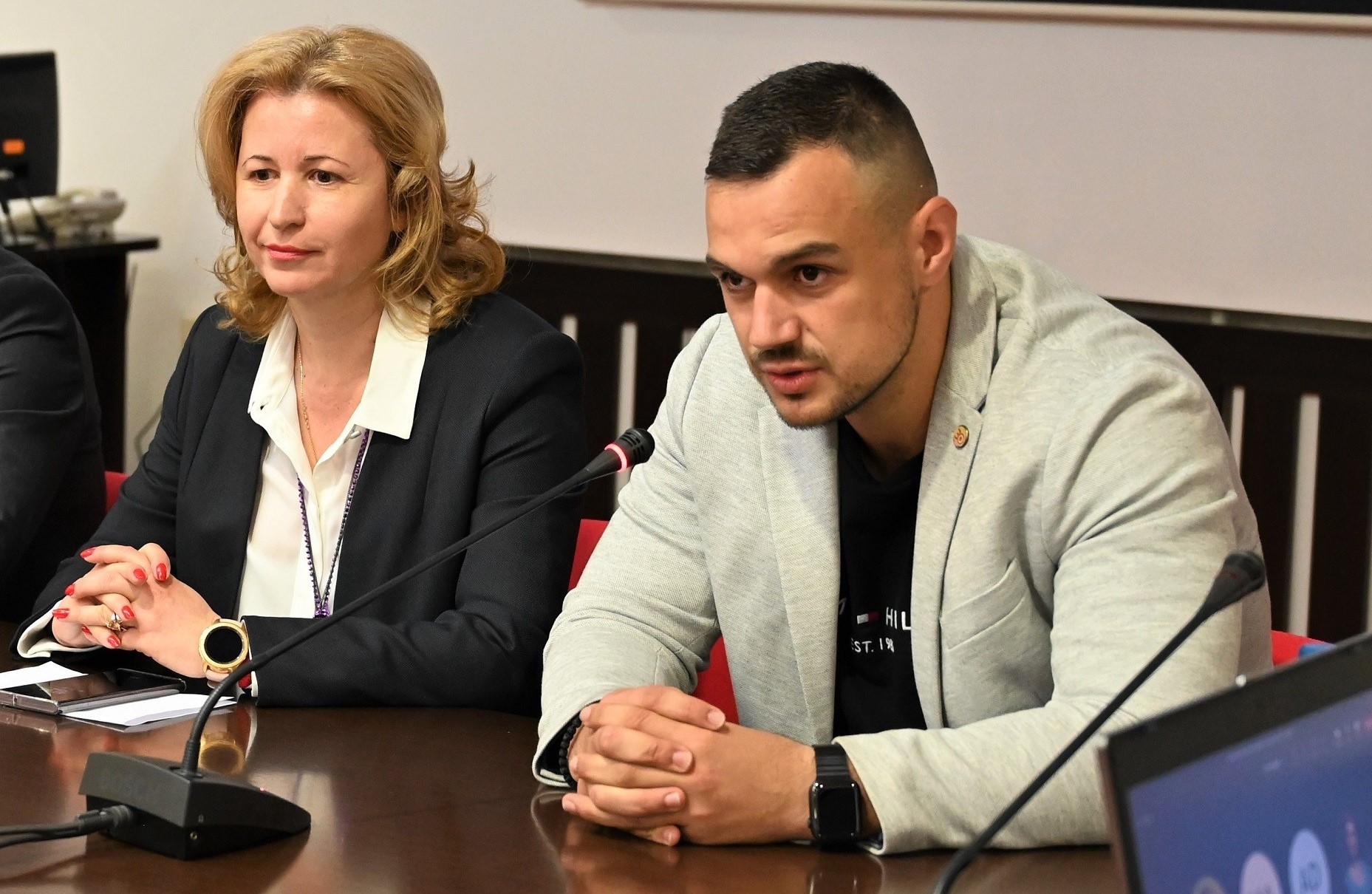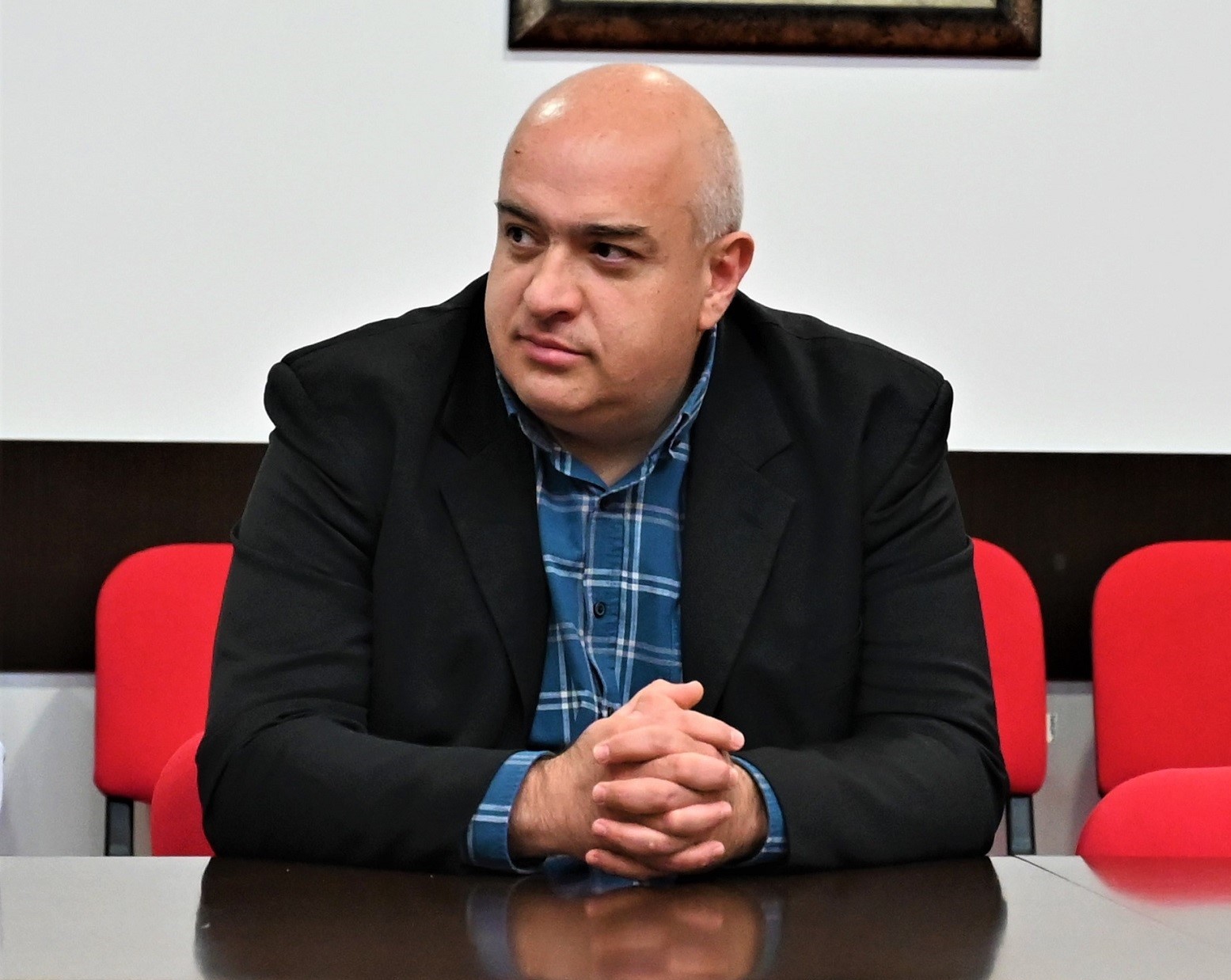 Prof. Dr. Rosen Kirilov,
Vice
-Rector for Digitalization and Cybersecurity, was also a guest at the events.
Ivan Vassilev, Member of the Management Board of BESCO: "As a graduate of UNWE I am glad for the opportunity given to the students to experiment and try new things." He told that BESCO is an association with over 500 innovative companies, Bulgarian and foreign. "Our main mission is to develop and support high added value services. What are the prerequisites for this to happen? Access to capital, talent and conditions for doing business. There is a lot of capital in Bulgaria at the moment - there are 17 funds with more than a billion euros that can be invested. The biggest topic is access to talent, and there are 2 opportunities to develop it: encouraging the innovative approach by the universities, and I want to greet the UNWE for its forward-thinking approach to its students. Changing the education system, however, is the longer road. The shorter way is to recruit talents from abroad. We working towards it by having a Startup Visa Programme that attracts entrepreneurs from the EU." He addressed to the students: "Bulgaria has a well-developed entrepreneurial ecosystem, there are funds, we have a network of companies that can help with any challenge. We continue our partnership with the UNWE for encouragimg your ideas to turn onto a successful business."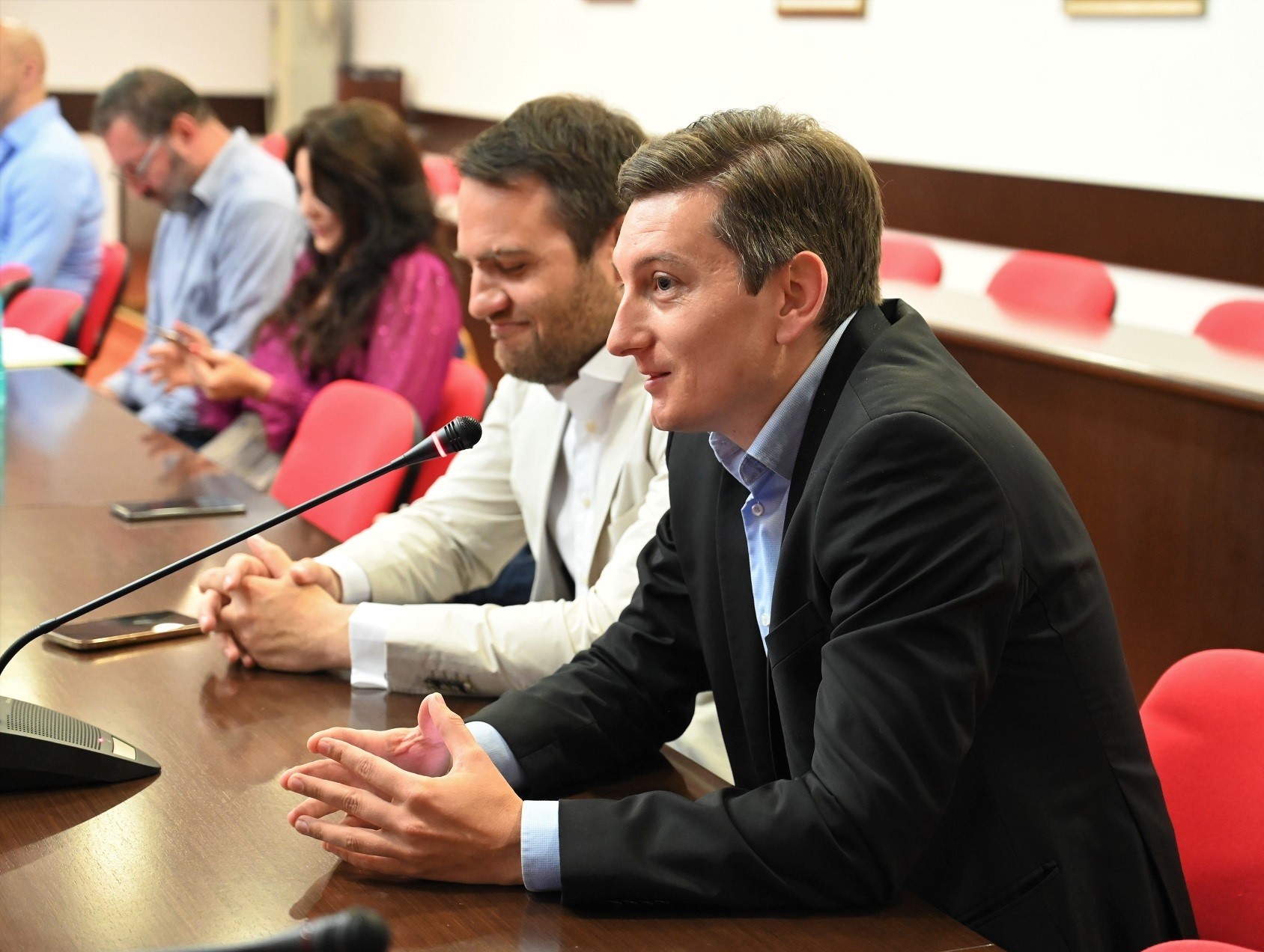 Ivan Vassilev: "Look for us, be active, experiment
!
"
Max Gurwitz, Deputy Chairman of the Bulgarian Private Equity and Venture Capital Association /BVCA/, said that there is a lot of capital in Bulgaria but a constant shortage of people who want to work in start-up companies. "At the moment, according to our research, there are about 20,000 jobs occupied. We expect that many more will be filled in the next few years. These are all successful companies."
Dr. Leona Aslanova, Executive Director of the First Bulgarian Innovation Agency "Innovation Starter", said that she is extremely happy about the opening of the Start-Up Office at UNWE Career Center. "Congratulations also to all the students who are actively involved in the organisation for supporting the hub. Innovation Starter has already taken action to organise courses in entrepreneurship, learning and innovation, so Mr. Dimitrov and I will work hard together in the fututre."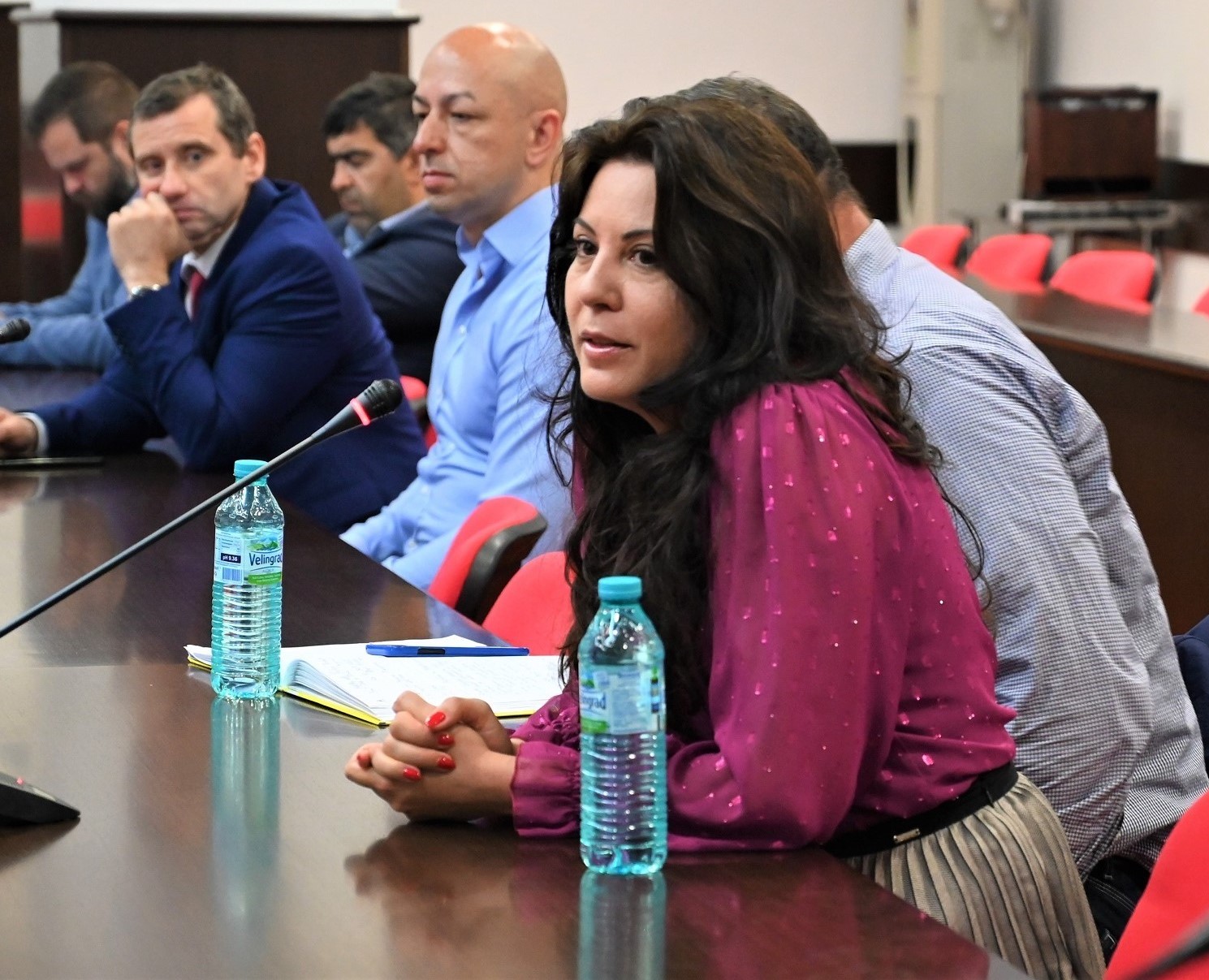 Dr. Leona Aslanova: "
The
innovativeness and competitiveness, are key moments for the future
"
Desislava Gatovska, Recruitment Specialist at Crypto.com, pointed out that the company Crypto.com, the world's largest cryptocurrency website, also had begun as a startup in 2016 in Hong Kong. "The UNWE is the first university we started a relationship with by donating books on cryptocurrencies as well as branding the Start-Up Office. I think it is a great start to our relations with he UNWE."
Yonko Minev, co-founder of the start-up company Pleggi, said that when he was a student "more publicity was given to business while now the things are slightly reversed." He said that when he was in his fourth year, he and a colleague of him started a joint project and with the support of lecturers and friends, the project was successful. They then developed their company and when they started talking with the UNWE about a partnership they realized that it was a kind of conversation between the entrepreneurial and educational spirit.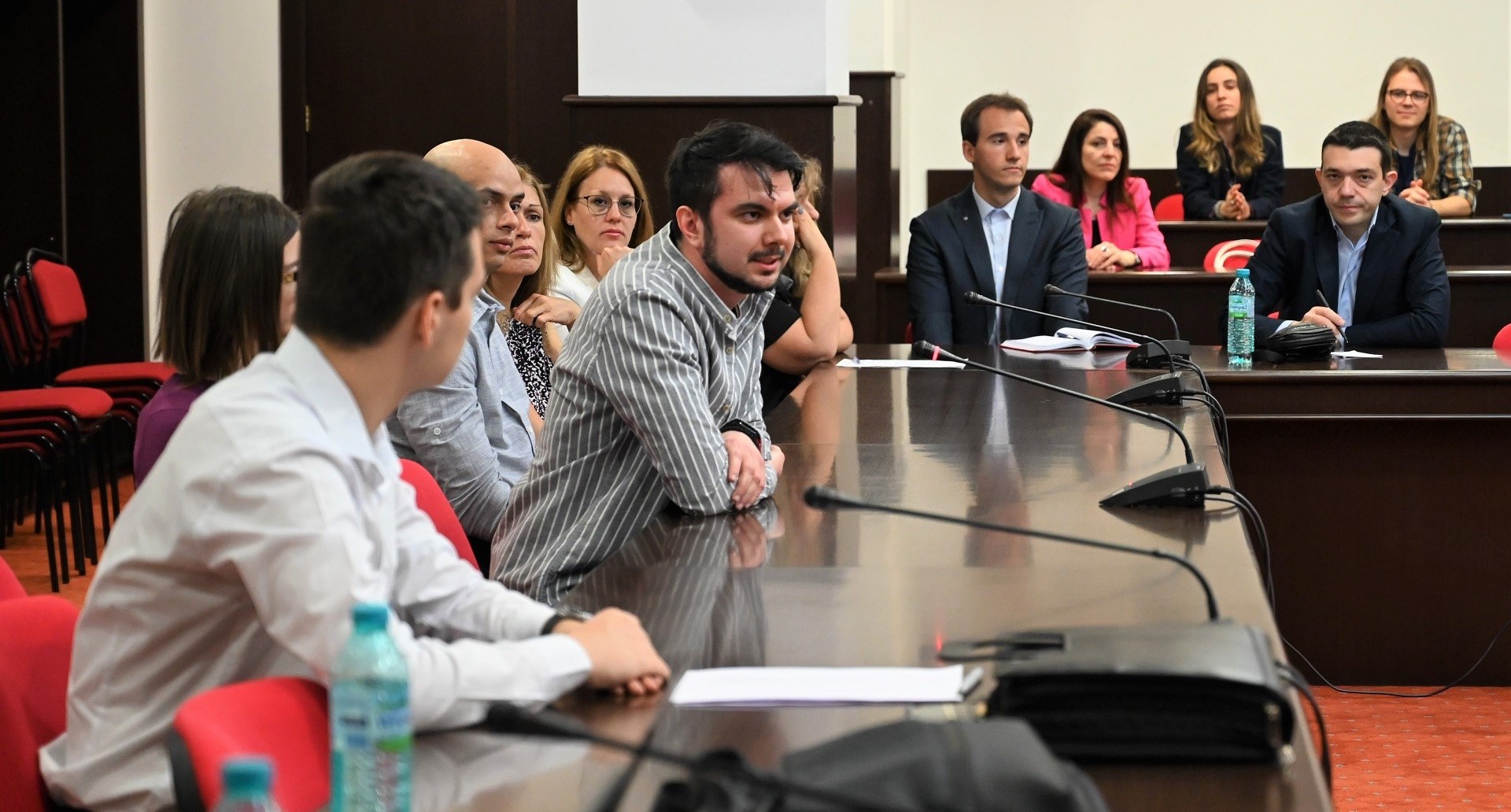 Yonko Minev: "It will be a privilege and honour to help you and we can't wait to start participating in common activities"
Ventsislav Lukanov, founder of VRtual Space, wished the team of the Start-Up Office "to have an open mind and creativity for the needs of new technologies, innovation and creativity."
Spasimir Tsvetkov, digital advertising specialist at start-up company ATOP: "We will be happy to be useful and help in the development of the Start-Up Office."
Along with the opening of the University Start-Up Office, it was also held the joint event of the UNWE and Junior Achievement Bulgaria where presentations with ideas for action in the fight against climate changes were presented. Both lecturers Apostol Djankov, WWF Bulgaria and Diana Nedeva, Junior Achievement Bulgaria, talked about what the sustainable development requires, circular and green economy, what constitutes a fair energy transition, etc. Actual issues related to the promotion of renewable energy, energy efficiency, circular economy and climate mitigation and adaptation solutions were also discussed. The event was realized as part of the Panda Labs Junior Project for a Just Transition.