Erasmus Student Network for Support of Student Mobility
The Erasmus Student Network /ESN/ is the largest student volunteer organization in Europe. It was founded on 16th October 1989 and registered in 1990. It is included in more than 1000 universities over 40 countries. The Network is in a constant process of development and expansion. It has more than 15 000 active members divided into over 550 sections. They are supported by the so-called buddies /mentors/ who take care mainly of foreign students. Thus ESN involves nearly 40 000 young people to help more than 350 000 international students each year.
ЕSN UNWE is one of the sections of ESN in Bulgaria. "We are a group of student volunteers from the UNWE who help international students coming to study at the university to integrate and improve their exchange. We also support Bulgarian students at UNWE who go on exchange to a partner university", says Nelly Stoilova, Chairperson of the ESN UNWE, adding that the section has founded in 2011 as part of the ЕSN office in Bulgaria and has branches across the country in cities of Sofia, Plovdiv, Varna, Ruse, Veliko Tarnovo, Svishtov and Blagoevgrad.
ESN's main focus is on the current exchange students who often face problems /and feel isolated/ in their new environment. The Student Network offers assistance in the process of academic, social and practical integration. It is implemented mainly through the activities of local sections which include cultural and social events such as trips to different places in the country, film evenings, language projects, international food festivals and other interesting events. In addition, many sections have introduced mentoring systems that help international students mainly in their academic and practical integration.
ESN value: Students help students /we are willing to volunteer for the benefit of others/
The organization also helps students who return from exchange in the process of reintegration in their home countries to maintain contact with the international environment. Many local sections have been set up by former exchange students often because they have had good experience from the exchange period or because they have felt a lack of help during the exchange.
ESN contributes to the creation of more mobile educational environment by supporting and developing the exchange of students from different educational levels and providing an intercultural experience to those students who do not have the opportunity for exchange abroad.
ESN value: International dimension of life /we are broad-minded, mobile, love to discover and explore, collaborate and interact to cross borders/
The Student Network works for the interest of international students to improve their social and practical integration, provides relevant information on mobility programmes, motivates students to study abroad and represents the needs and rights of international students at local, national and international levels.
ESN value: Unity in diversity, diversity in unity /we all have different backgrounds, but share a common goal/
The organization also provides relevant information and encourages the prospective exchange students to gain international experience and a relevant understanding of different cultures.
ESN's vision is to become the global network of the Erasmus generation by 2025 committed to improve the international education and provide opportunities for self-development for two million young people promoting intercultural understanding and creating positive change in society.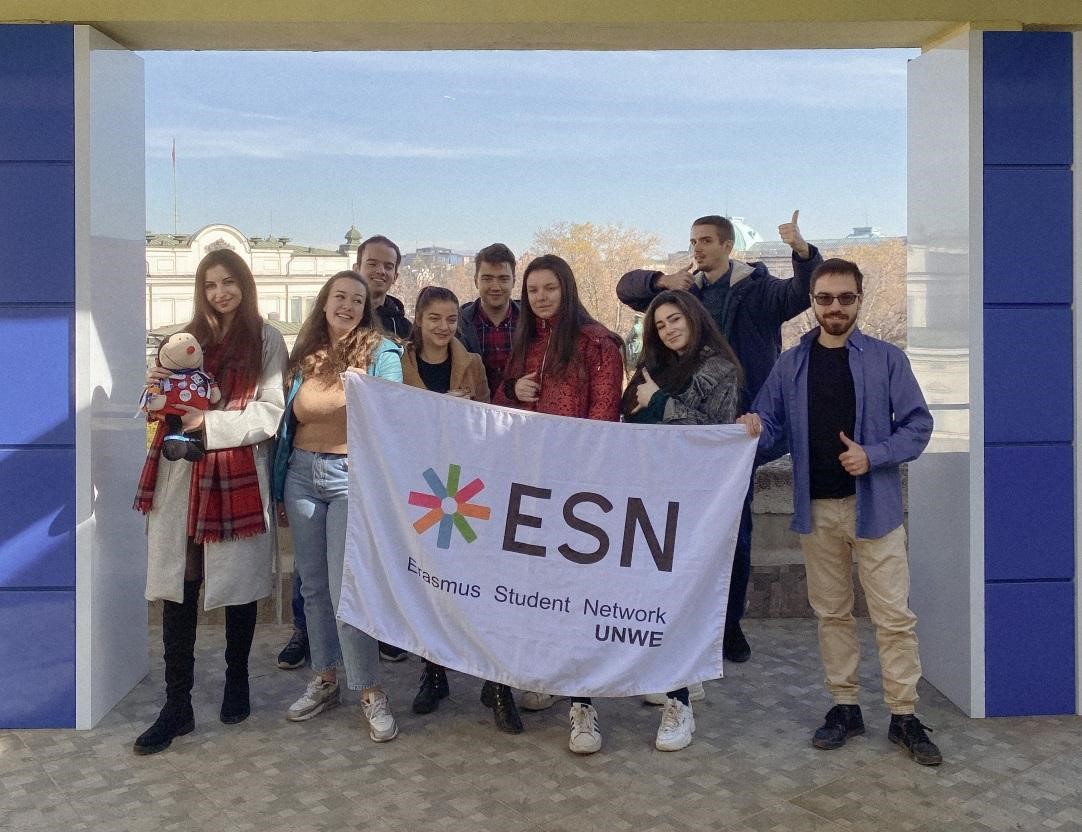 ESN value: Openness with tolerance /we understand and accept others and learn from them/
ESN value: Love for Europe as a space of peace and cultural exchange /we live and benefit from Europe's cultural richness and diversity/