The UNWE Was Awarded the Honorary Diploma by the Minister of Foreign Affairs of Japan for 2020
On 23 April 2021, in the Embassy of Japan in Sofia, Bulgaria, it was held a ceremony on awarding the Honorary Diploma of the Minister of Foreign Affairs of Japan for 2020 to the University of National and World Economy. The distinction was bestowed on the Rector of UNWE Prof. Dr. Dimitar Dimitrov by H.E. Hiroshi Narahira, Ambassador Extraordinary and Plenipotentiary of Japan to the Republic of Bulgaria /in the picture below/.
At the initiative of the Japanese International Cooperation Agency /JICA/ over the period 2004 – 2008 the UNWE took part in the creation of Managerial Skills Development Center to the Institute of Postgraduate Studies aiming to promote the Japanese business management methods.
Since 2018 the University has played an important role in the cooperation between Japan and Bulgaria in the field of small and medium businesses development under the Western Balkans Cooperation Initiative set up by the Japanese government.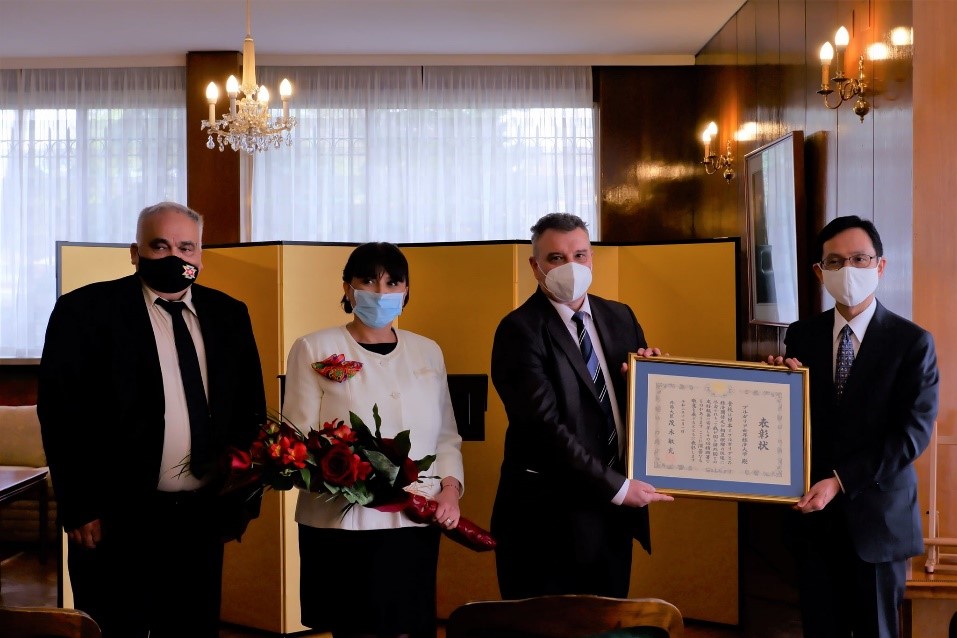 The Managerial Skills Development Center is created due to the
dedicated efforts of Assoc. Prof. Dr. Ivan Stoychev /in the picture on the left/, longstanding Director of the Institute of Postgraduate Studies till 2020 who also took part in the ceremony
As a sign of thankfulness for the recognition the Rector of UNWE awarded to the Japanese partners a book about Prof. Stephan Bobchev and UNWE history as well as the encyclopedia ''Prime-Ministers, Ministers and Senior Legislative Representatives – Lecturers and Graduates of UNWE'', an anniversary coin and anniversary plaque ''100 years UNWE'' and a statuette of Prof. Stephan Bobchev – Founder and First Rector of UNWE /in the pictures below/.
This distinction is the consecutive great recognition for the work level at the UNWE and its strengthening in a global scale.
Congratulations to the UNWE and thankfulness to the Japanese partners!