UNWE Is Co-Organizer of International Scientific Conference
Leonov Moscow Region University of Technology, UNWE and Belarusian State University of Informatics and Radioelectronics organized the 9th International Scientific Conference on Future Trends, Organizational Forms and Effectiveness in the Development of Cooperation between Russian and Foreign Universities. The event took place on April, 8th and 9th, 2021, in the town of Korolev, Moscow region and online. The Rector of UNWE Prof. Dr. Dimitar Dimitrov addressed the International Forum with a welcoming speech.
Prof. Dr. Dimitar Dimitrov
"It`s my greatest pleasure to welcome you on behalf of the eldest, most authoritative and the largest business university in Bulgaria and Southeast Europe. Considering the main topics of the conference, I could state that there is no doubt about its success. Digital learning environment plays a vital role in our educational systems these days. The university development strategy and the international activities of each university are tightly related and even more – the international activities are a must for the modern university on its way to internationalization and worldwide recognition", said the Rector in his speech. He also paid attention to the topics selected in students' section that according to him should not go unnoticed, because of their challenging direction, especially in the current situation. "Despite the circumstances due to which the forum is held online, I am sure that it will serve as a solid foundation for future mutually beneficial cooperation", outlined the Rector in his welcoming speech.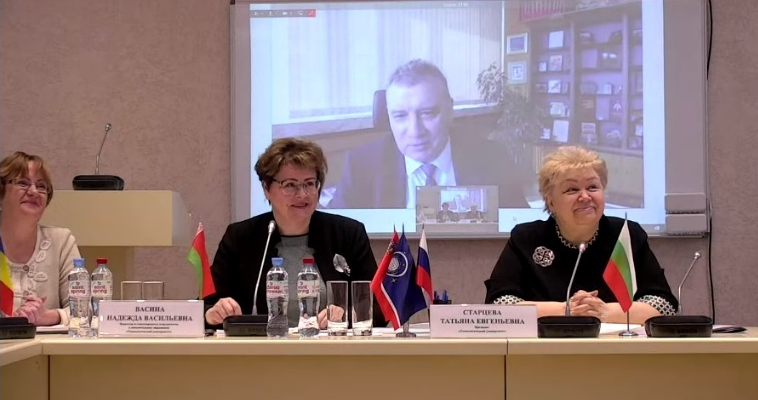 From the UNWE in the Conference took part Chief Assist. Dr. Christian Zhelev, International Cooperation Coordinator and lecturer at the International Economic Relations and Business Department, Assoc. Prof. Dr. Marko Timchev, lecturer at the Accountancy and Analysis Department and Dr. Violina Nencheva from the Industrial Business Department. Reports on the topic were delivered by leading experts from Russia and abroad, representatives of state structures, cultural and educational institutions
During the Forum were discussed topics with vital focus on the development of international cooperation between universities, theoretical and practical aspects of integration building in the context of global society digitalization, information technology and digital learning environment as a tool for modernizing and improving the quality of education. The topics in students` section drew participants' attention to the aspects of young people educational integration in the current context.