Cargill Bulgaria and MDV Professional Education Donated Study Materials to the UNWE
MDV Professional Education, company for professional business trainings, supported by Cargill Bulgaria, two times holder of the Best Shared Service Centre of the Year award of the Bulgarian Outsourcing Association for 2017 and 2018, donated to the UNWE library over 100 study materials in the English language that will improve the business language skills and technical knowledge of the UNWE students.
The Rector Prof. D.Sc.(Econ.) Statty Stattev awarded the Certificate of Donation to Mrs. Doroteya Voeva, MDV Managing Partner and Metody Georgiev, Executive Director and Operations Director of Cargill Bulgaria's Shared Services Center in Sofia (in the picture below).
The donation is a successful step to the realization of the Partnership Agreement between the UNWE and MDV signed in May of the current year. It will allow the UNWE students to have access to high-quality practical materials that are not just theoretical but mostly featuring practical case studies and will contribute to their better preparation for career development in the real business environment as well as to their growing as future leaders.
Due to the donation the UNWE will provide a set of practical instructions adequate to the dynamic business environment. The original study texts as well as the practice and revision kits in the English language will improve the practical preparation of the UNWE students to solve cases in real working conditions.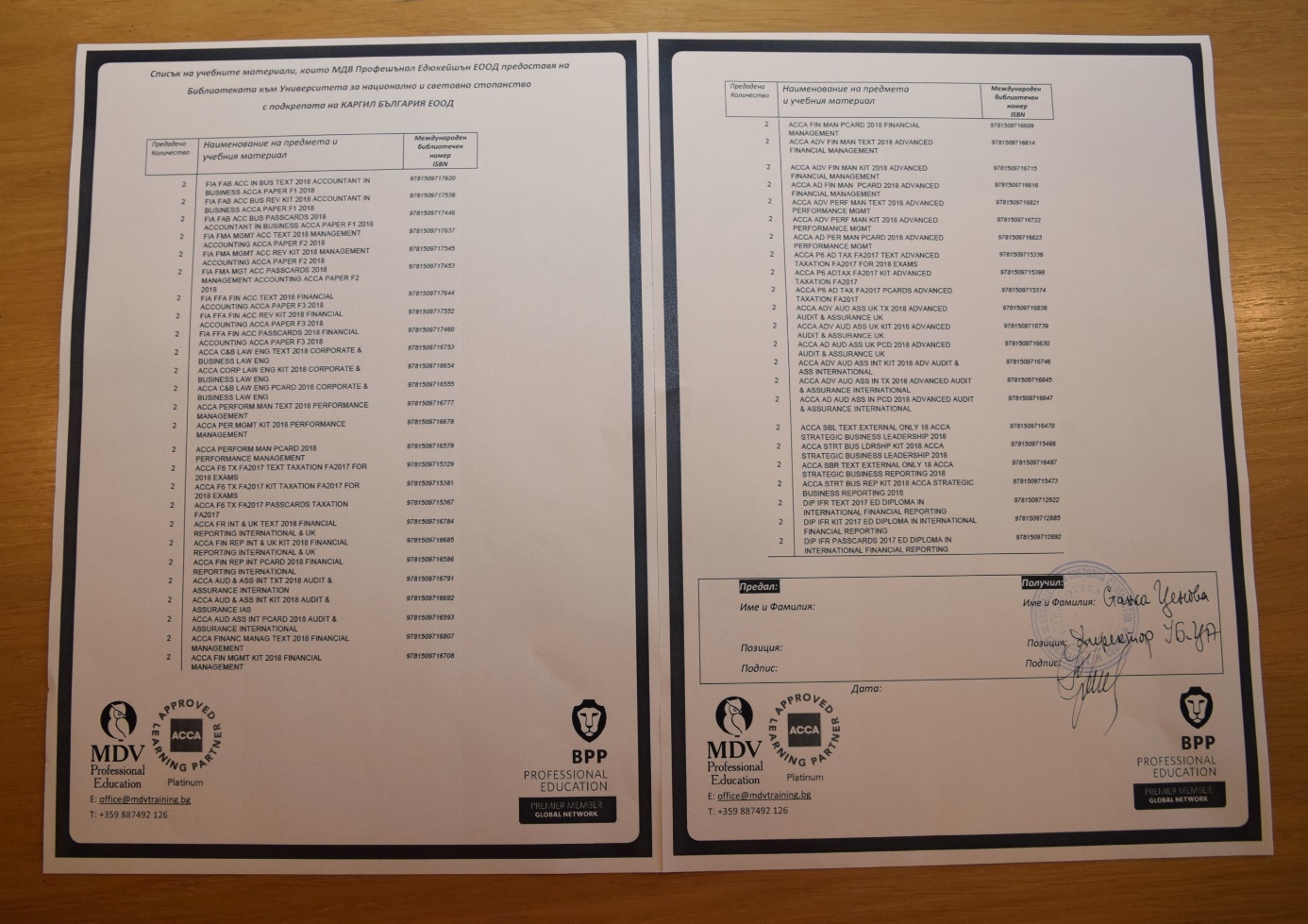 List of study materials donated to the UNWE library
At the event attended Assoc. Prof. Dr. Stela Raleva, Vice Rector for Education in the EQD of Master and Distance Learning, Nikolay Bakardzhiev, Assistance Rector, Prof. Dr. Snezhana Bahseva, Dean of the Finance and Accountancy Faculty, Prof. Dr. Ognyan Simeonov, Head of the Financial Control Department, Assoc. Prof. Dr. Tanya Atanasova- Drenska, lecturer at the Financial Control Department (in the picture below).
The study materials are prepared by professionals with successful track record and business background who generate the exam questions for some of the largest chartered bodies in the world. They will be helpful for the preparation of students towards the renowned АССА (Association of Chartered Certified Accountants) certification.
The materials are part of the portfolio of BPP Learning Media that MDV represents in Bulgaria and are used to train employees of some of the largest and most well-known financial companies worldwide (Big 4 auditing firms, shared service centres, commercial and analyst, FMCG, Retail, Transport and Logistics, Fin-Tech, etc.).
For more information about the MDV Professional Education and Cargill Bulgaria see: https://mdvtraining.bg/ and https://www.cargill.bg/.