Prof. Statty Stattev: UNWE Academic Community Considers the Care for Disabled People as a Cause
The major problem of disabled people is the available environment. Life is movement and when we limit the right of movement so we limit the life. That`s why at the UNWE we do our best to provide an available material and academic environment for disabled people. Moreover the UNWE academic community considers the care for disabled people as a cause, declared Prof. D.Sc.(Ècon.) Statty Stattev during the Round Table Conference on the Disabled People as Resource for Primary Labour Market – Challenges and Solutions held under the patronage of the President Rumen Radev.
Nearly 100 disabled students with over 70 % invalidity study at the UNWE. There`s also worked out a software that turns the speech of the lecturer into written text with over 98 % success but for being incorporated it is necessary to have resource of 700 to 1000 BNG for each student. So I welcome the words of the President Rumen Radev that we should have adequate solutions with clear financial commitments, pointed out Prof. Stattev.
During the Round Table Conference in the Presidential Residence in Boyana near Sofia. On the right: Prof. Statty Stattev
At the UNWE special attention is paid to undergraduates and Doctoral students. They have a number of privileges over the ones provisioned in the general legislative measures. Among these nearly 100 students we have done a survey about the treatment of lecturers and officials to them. On the ground of the results we have done nearly 30 specific suggestions about improvements in some directions.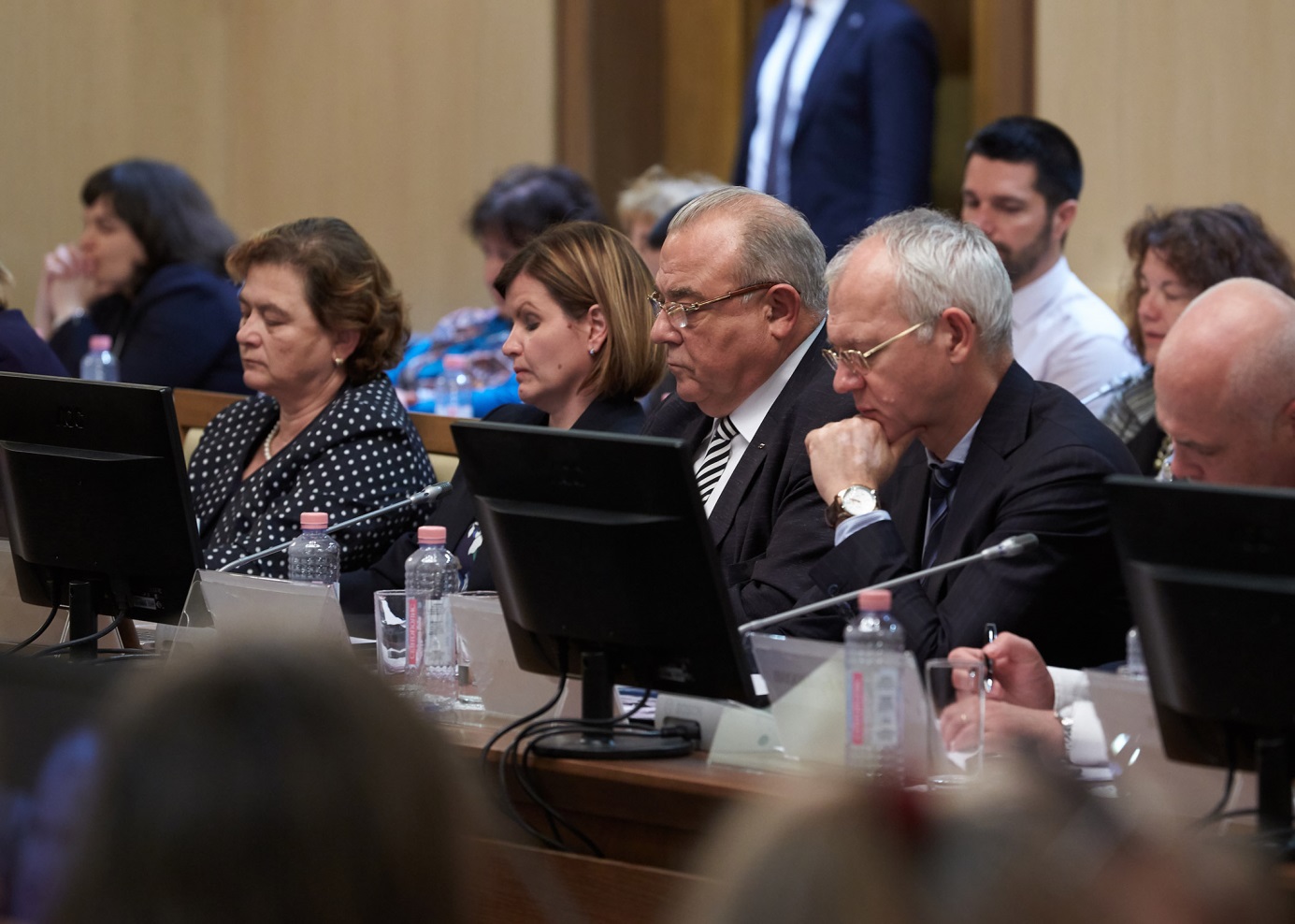 Prof. Statty Stattev (in the middle), Mr. Vasil Velev, Chairman of the Governing Board of BICA (on the right) and Mrs. Silvia Georgieva, Executive Director of NAMRB (on the left)
The Rector informed that 48 students with hearing impairments from the UNWE and University of Sofia had been supported through sign language training and all disadvantaged students in their fourth year, EQD of Bachelor at the UNWE pass an apprenticeship under realistic conditions.
The UNWE is the first state university which has elaborated an electronic guidance for work with disabled Doctoral students in 2013. It is established a Student Association of Volunteers at the university providing assistance in the education of undergraduates and Doctoral students with disabilities. It is worthy of our students that they organize charity balls for their disabled colleagues under the motto Equal Chance for Development. The effect is very strong because it is not only about the material support but about treatment, commitment and humanity, said Prof. Stattev.