Europe at Your Fingertips: Find out and Study in Europe on the Erasmus+ Programme
For a second consecutive year the Seminar for preparation of students departing on the Erasmus+ Programme was held. It was entitled My Erasmus Adventure – Advices for Successful Mobility. The event was organized by the Erasmus Student Network UNWE (ESN UNWE) by the support of the UNWE International Office. More than 30 future Erasmus Programme students from the university, over 10 volunteers from the ESN as well as foreign Erasmus Programme students gathered at one place united by a common objective – to find out how the departing students could be successful during mobility. Due to its success last year, in November 2017 the concept of the Seminar occupied the third place as good practice in the Regional Platform of ESN International in Istanbul.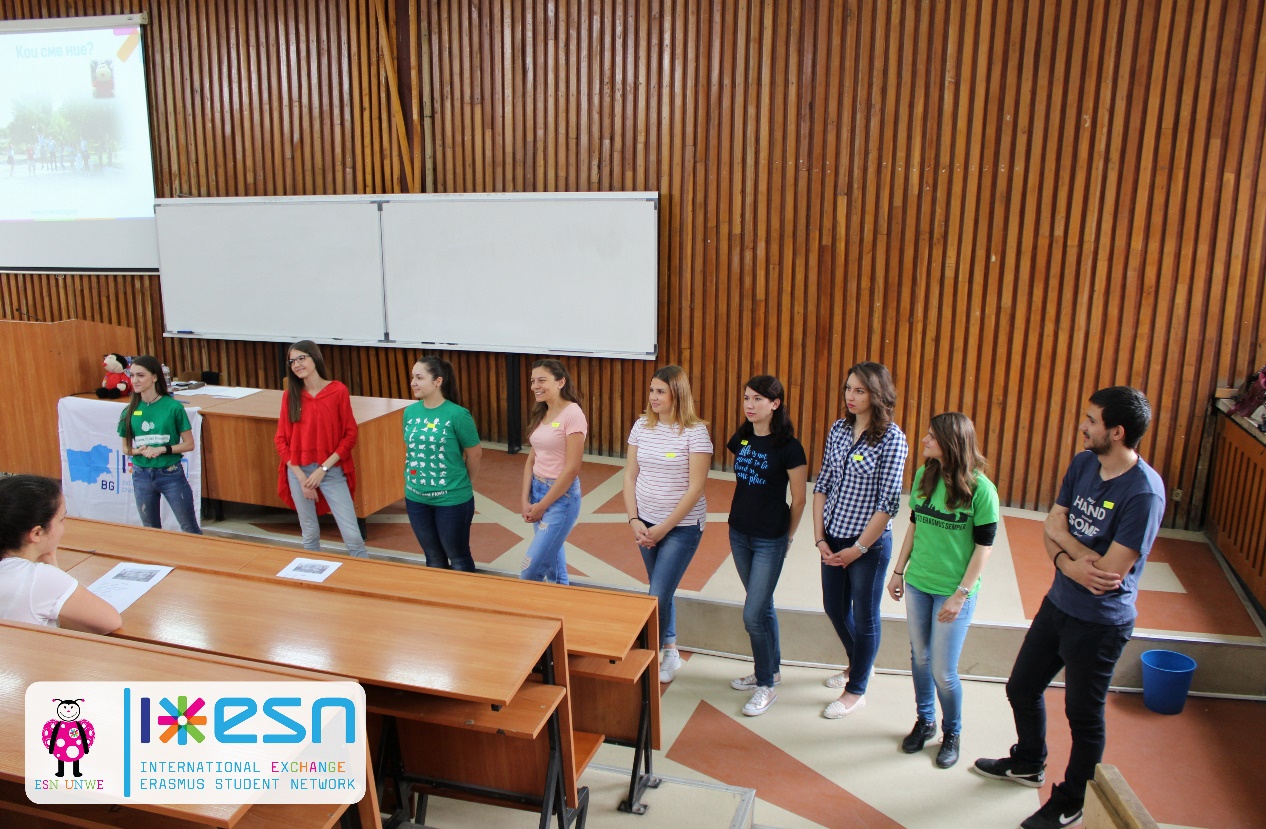 The Seminar organizers are greeting the future Erasmus Programme students
The event was held in two parts. During the first part there were a discussion and lecture informing about the specific features of educational systems in Europe, advantages of the Erasmus+ Programme and a quiz containing various statistical data about the Programme over the years.
Students are presenting in groups the countries where they will study
The second part was practical and interactive. During it were held two informational games for creating contacts between students and Language Café where the volunteers from the ESN and foreign students talked with the departing students from the UNWE, gave them some advices and answered their questions related to the their stay in the relevant country.
UNWE students during energizing exercises
At the end of the Seminar there was a team presentation of countries where the students would study during the following academic year. The increasing interest in the mobility is provoked by the opportunities provided by the UNWE and its partnership with the ESN. It makes easier the choice of Master`s degree programmes at the university for the students from our university as well as for the foreign students who have already been at the UNWE on the Erasmus+ Programme.
The positive comments about the event and the created structure will allow the UNWE and the ESN to continue their partnership in the preparation of students and to set up the basis for new good practices to promote the participation of students in the Erasmus + Programme.