Team from the Speciality International Economic Relations Won the Grand Prize in the Contest As Bernays
In the final stage of the 4th edition of the festival Bernays Day was held the contest As Bernays. In the current year it was devoted to the European Institutions, Refugee Policy and Populism: New Communication Solutions.
During the contest
The first prize won the team of Kalina Leontieva and Darina Popova from the speciality International Economic Relations with its mentor Chief Assist. Dr. Alexander Hristov from the International Economic Relations and Business Department.
Pavlina Tsaneva and Margarita Dimova from the specialities Media Economics and Media and Journalism of the Media and Public Communications Department with their mentor Chief Assist. Dr. Maria Nikolova won the prize for an original idea.
The teams are presenting their suggestions
The other two teams from the UNWE were from the Marketing and Strategic Planning Department – Yavor Bachev and Inna Borisova from the speciality Marketing and Advertising Management with their mentor Prof. Dr. Boyan Durankev and Kamelia Besova, Karina Azizyan and Desislava Seferova from the speciality Marketing with their mentor Chief Assist. Dr. Elena Kostadinova.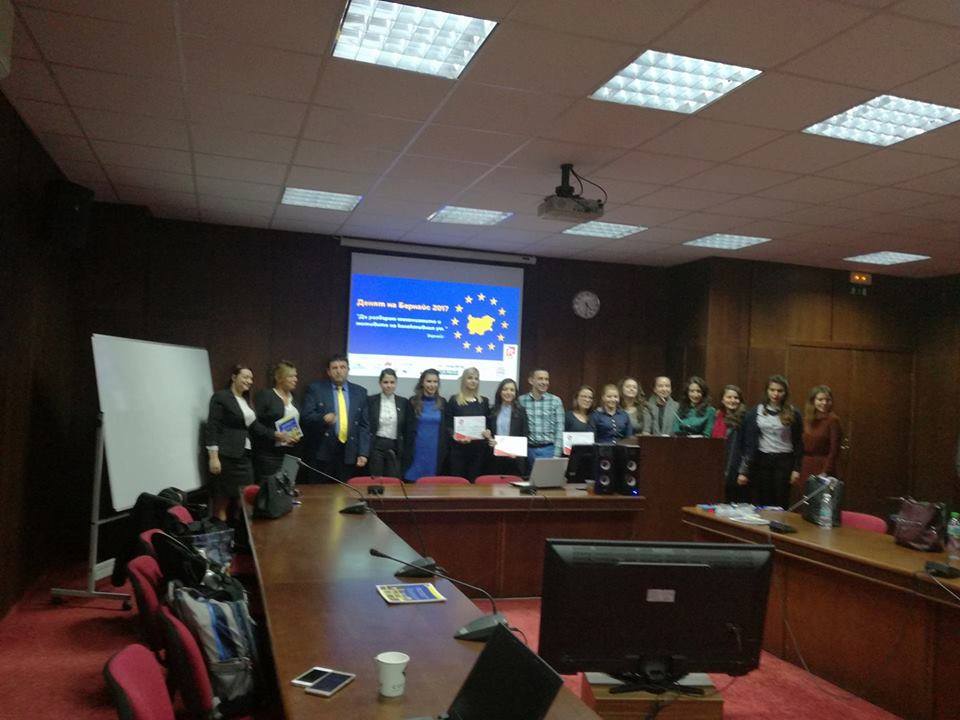 The awarded teams
During the presentations each team had 15 minutes to introduce its project to the members of the jury: Mila Milenova, Chairwoman of the Bulgarian Public Relations Association (BPRA) for 2018 and 2019, Emilia Hubavenska, Communications Expert, European Asylum Support Office (EASO) and all student teams` mentors. The teams had to prepare also a communication suggestion in the form of informational, communication, marketing, PR or lobbing campaign including a strategy and several tactics or activities for improving the environment.