Public Lecture by H.E. Stefano Baldi, Ambassador of the Republic of Italy to Bulgaria
The Public Administration Department organized a public lecture by H.E. Stefano Baldi, Ambassador of the Republic of Italy to Bulgaria. His lecture was entitled BULGARIA & ITALY in 10 indicators: GETTING TO KNOW THE COUNTRIES THROUGH INTERNATIONAL RANKINGS.
At the event in the Ceremonial Hall attended Assoc. Prof. Dr. Milanka Slavova, Vice Rector for Education in the EQD of Bachelor and Lifelong Learning, Prof. Dr. Polya Katsamunska, Vice Dean for Quality and International Cooperation of the Management and Administration Faculty, Assoc. Prof. Dr. Alexander Valkov, Head of the Public Administration Department, Assoc. Prof. Dr. Denitsa Gorchilova, Scientific Secretary of the Department, lecturers and students.
H.E. Stefano Baldi, Assoc. Prof. Milanka Slavova and Prof. Polya Katsamunska (from the right to the left)
Today`s meeting is a continuation of the tradition to invite famous persons to deliver public lectures at the university, pointed out Prof. Polya Katsamunska who presented the guest.
In his presentation H.E. Stefano Baldi made a comparative analysis between Bulgaria and Italy in 10 indicators basing on the results of international rankings in 150 countries of the world. He emphasized on his purpose to outline the positioning of both countries on the base of real data.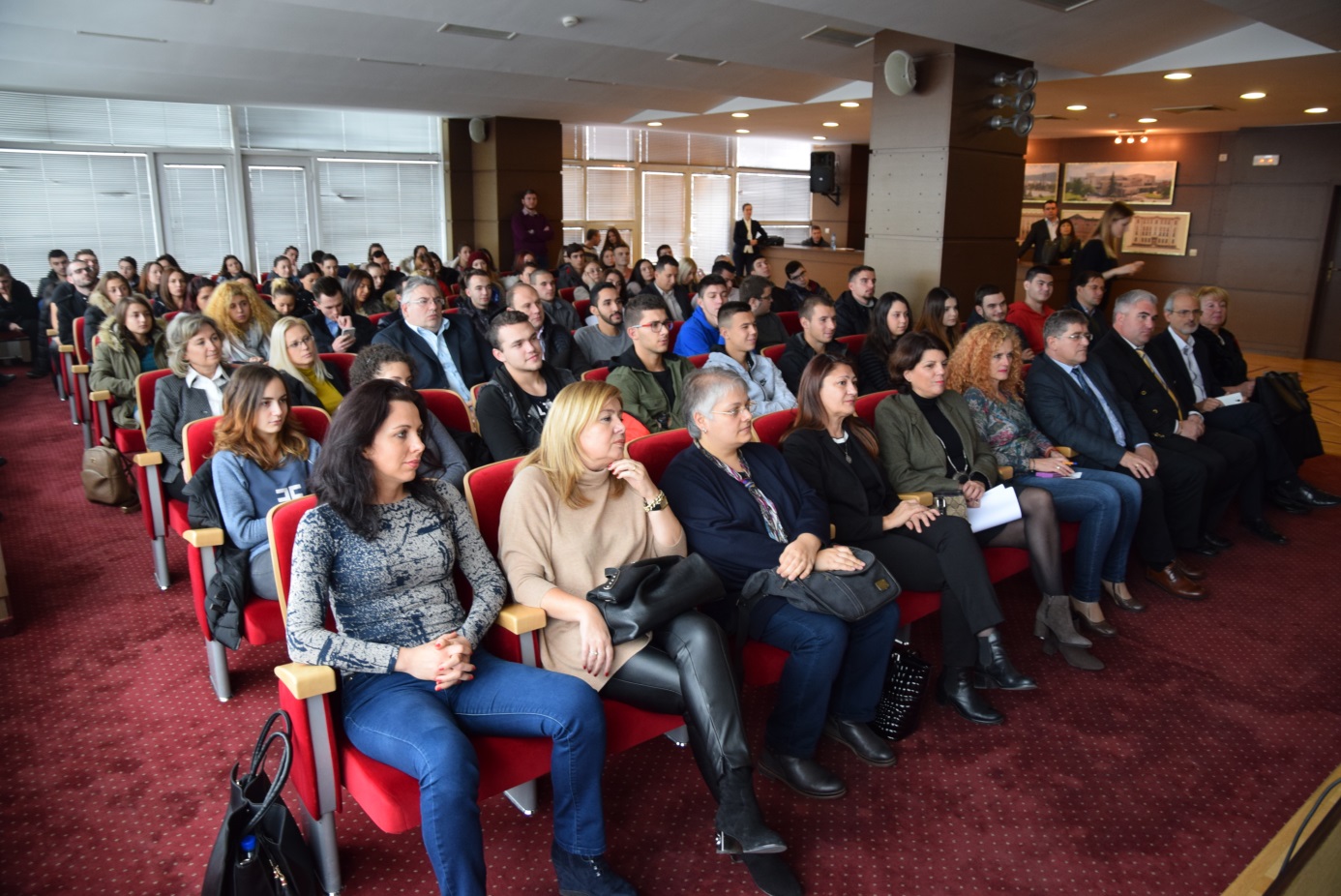 In the Ceremonial Hall
The lecturer explained the term "indicator" and its importance for the elaboration of qualitative comparative analysis. We often take the information for granted or we miss it if we are not critical to the data given to us, pointed out the Ambassador. He focused on the results of Bulgaria and Italy in the international rankings in the following indicators: doing business, human development index, global competitiveness index, democracy, corruption perception index, freedom of press, global innovation index, global gender gap index and government development index.
Н.Пр. Стефано Балди
According to the international rankings data doing business in Bulgaria is easier than in Italy despite the amendments in the Investment Act of Italy. In regard of the global competitiveness index and corruption perception index the results of both countries are close.
After the presentation the Ambassador answered the students questions.
On behalf of the Rector of UNWE Prof. D.Sc.(Econ.) Statty Stattev a Certificate of Appreciation in recognition of his lecture was awarded to H.E. Stefano Baldi by Assoc. Prof. Dr. Milanka Slavova (in the picture below).
H.E. Stefano Baldi who is Ambassador of the Republic of Italy to Bulgaria since 19 September 2016 combines his diplomatic career with his academic activity. He is an author of lots of books. His most recent research and publications are focused on the application of new technologies and social media in the diplomacy as well as to diplomatic management. He has a personal website "Immaginario Diplomatico" devoted to the Italian diplomats and he is responsible for the Blog on Training "Diplo Learning Corner".