Lecturers and Students Visited Sutherland Global Services
The successful joint activity of UNWE and Sutherland Global Services continues. After signing the Agreement of Cooperation between the university and the international company (on 24 June 2016) some successful initiatives were held – competition for a student essay, visits of lecturers, presentations, etc.
The visit at the company offices was arranged during the meeting between the Rector of UNWE Prof. D.Sc.(Econ.) Statty Stattev and Dimitar Galabov, Executive Director of Sutherland Global Services Bulgaria. At the meeting at the company offices attended Prof. Dr. Valentin Goev, Vice Rector of the university, Prof. Dr. Dimitar Dimitrov, Dean of the Economics of Infrastructure Faculty and Coordinator on the Agreement from the UNWE, Prof. Dr. Snezhana Basheva, Dean of the Finance and Accountancy Faculty, Kristian Madzhurov, Chairman of the Student Council, lecturers and students from the UNWE.
Dimitar Galabov during the presentation
Dimitar Galabov presented briefly the international company, its successful activity over the last years, its clients and staff. He outlined the good cooperation with the UNWE and emphasized on the good preparation of employers of the company who had graduated from our university. Sutherland Global Services is a leader in the sphere of out sourcing the business process, it works with companies from the World Top 500 and has offices in Sofia, Varna and Bourgas.
Participants in the discussion (Prof. Goev and Prof. Dimitrov on the left)
Katerina Kurteva, Educational Institutions Relations Manager presented the opportunities for work and practice for the students of UNWE – open doors day, internships, foreign languages academy, flexible working hours, etc. The representatives of the Student Council confirmed the young people interest in widening the cooperation and participation in the initiatives.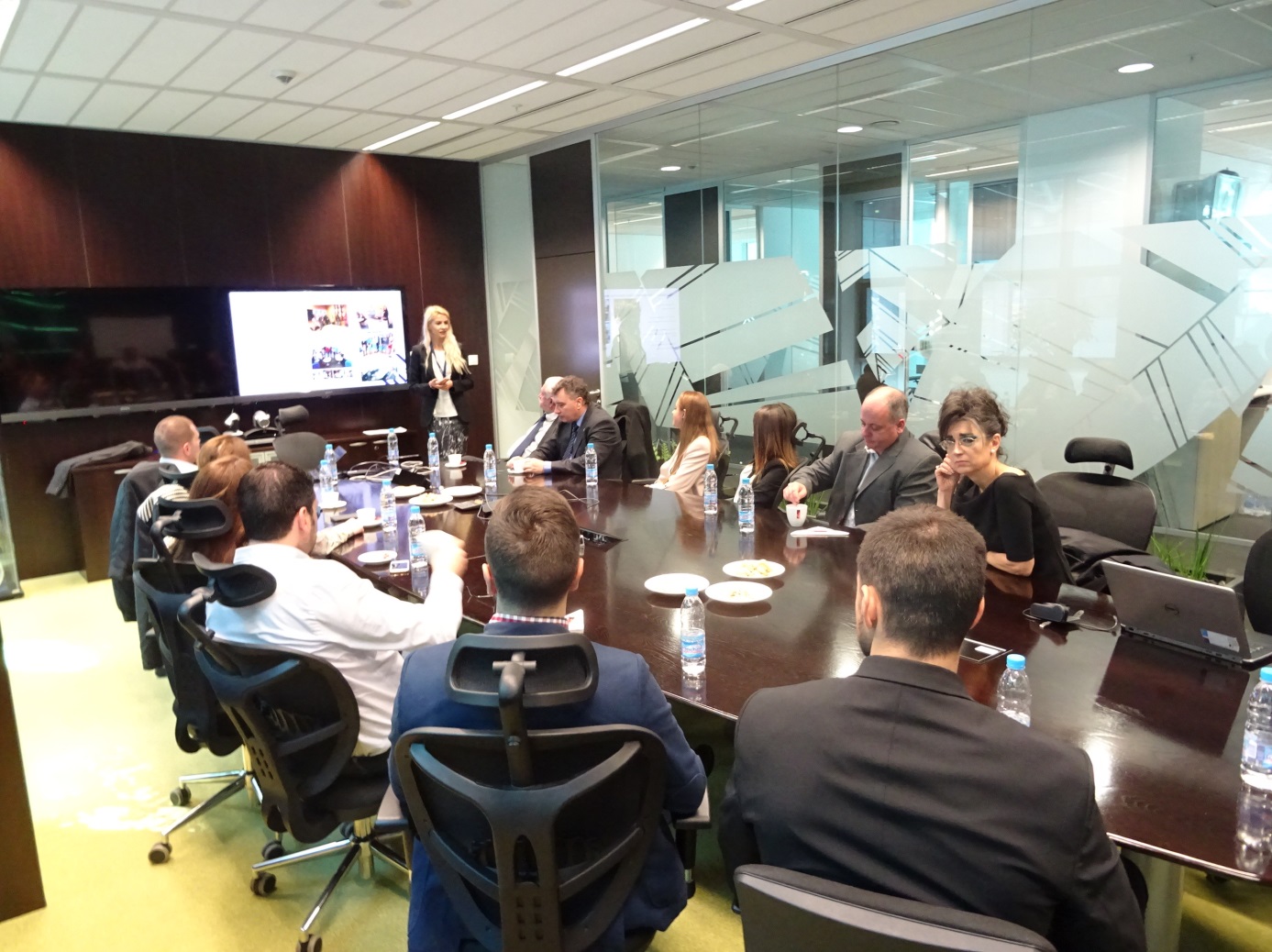 Katerina Kurteva during the presentation
After going round the Sutherland offices working for clients as Google, Amazon, Spotify, etc., there was a discussion.
Part of the participants in the discussion (in the middle Dimitar Galabov and Prof. Dimitar Dimitrov, on the right end – Kristian Madzhurov)