Information Meeting with Students on The Erasmus+ Programme for The Academic Year 2017/2018
Information meeting with students on the Erasmus+ Programme for the academic year 2017/2018 was held at the university. At the event in the Large Conference Hall attended Assoc. Prof. Dr. Ekaterina Tosheva, Director of the University Center for Students and Lecturers Mobility (UCSLM), Assist. Dr. Dimitar Damyanov, Deputy Director of UCSLM, Albert Pashov, Deputy Chairman of the Erasmus Student Network Section at UNWE and Education Officer at the ESN Bulgaria, undergraduates and Doctoral students.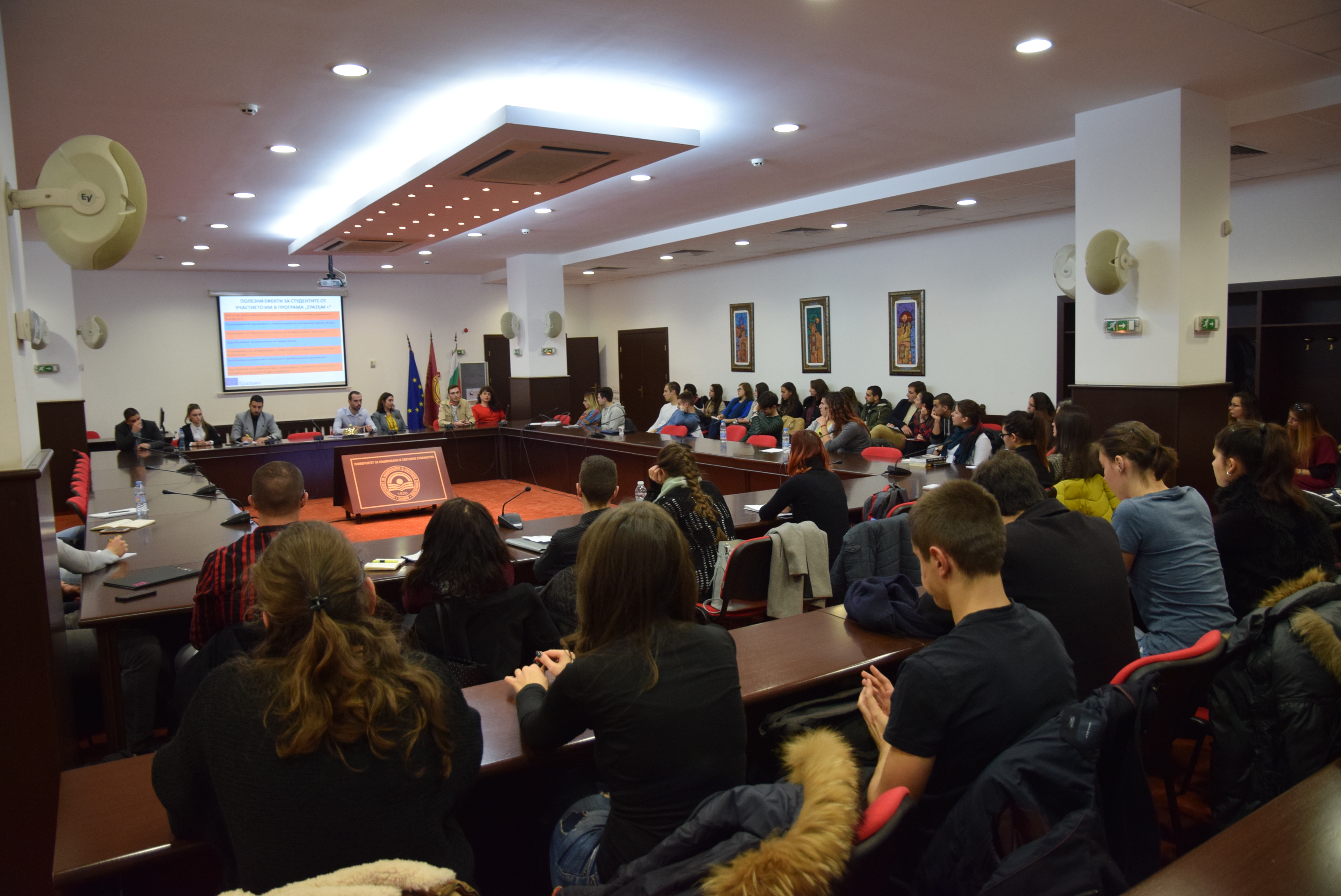 In the large Conference Hall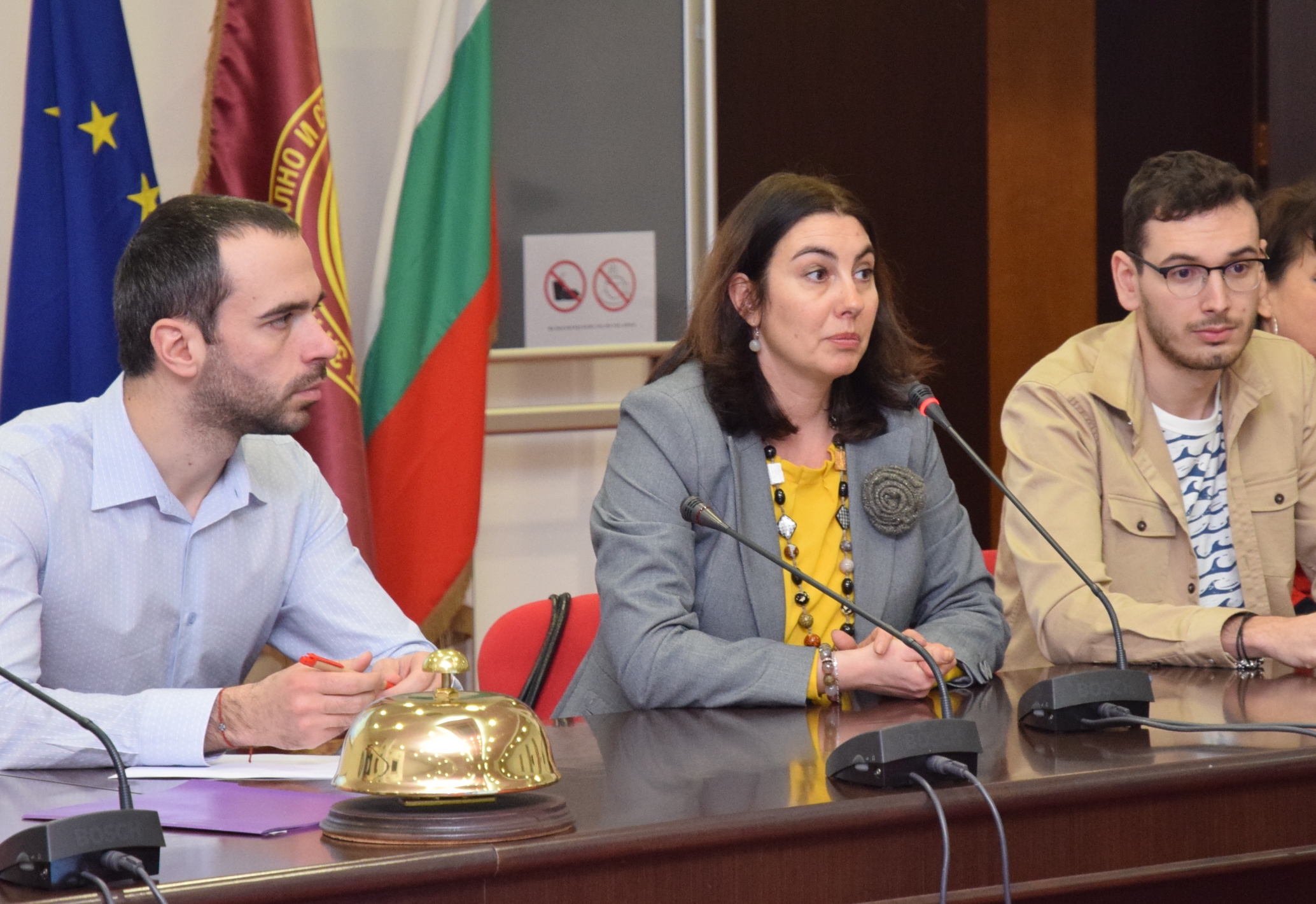 Assoc. Prof. Tosheva is opening the meeting. On the left: Dr. Damyanov, on the right – Dario Dionisi
The work of UCSLM and the EU Programme in the field of higher education were presented by Assoc. Prof. Ekaterina Tosheva. She examined the UNWE participation in the exchange of students and lecturers based on the Erasmus University Charter provided by the European Commission after a special selecting procedure. She also outlined the opportunities of mobility on the Programme and the selection of undergraduates and Doctoral students for participation in it.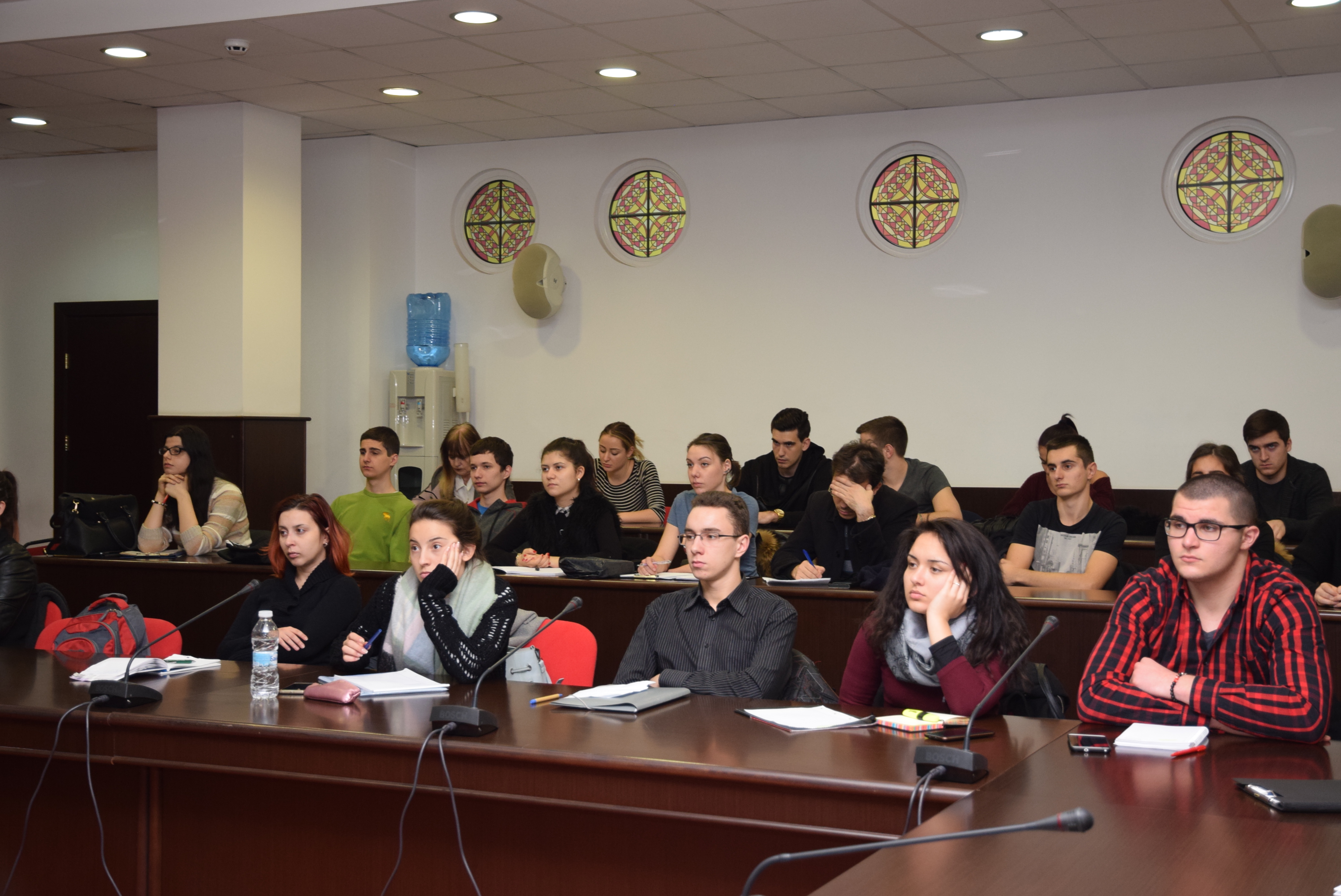 Participants in the meeting
Assoc. Prof. Tosheva emphasized on the upcoming selecting procedure announced and held by the UCSLM in the end of February and beginning of March. She examined the provision of a certain grant for the implementation of mobility.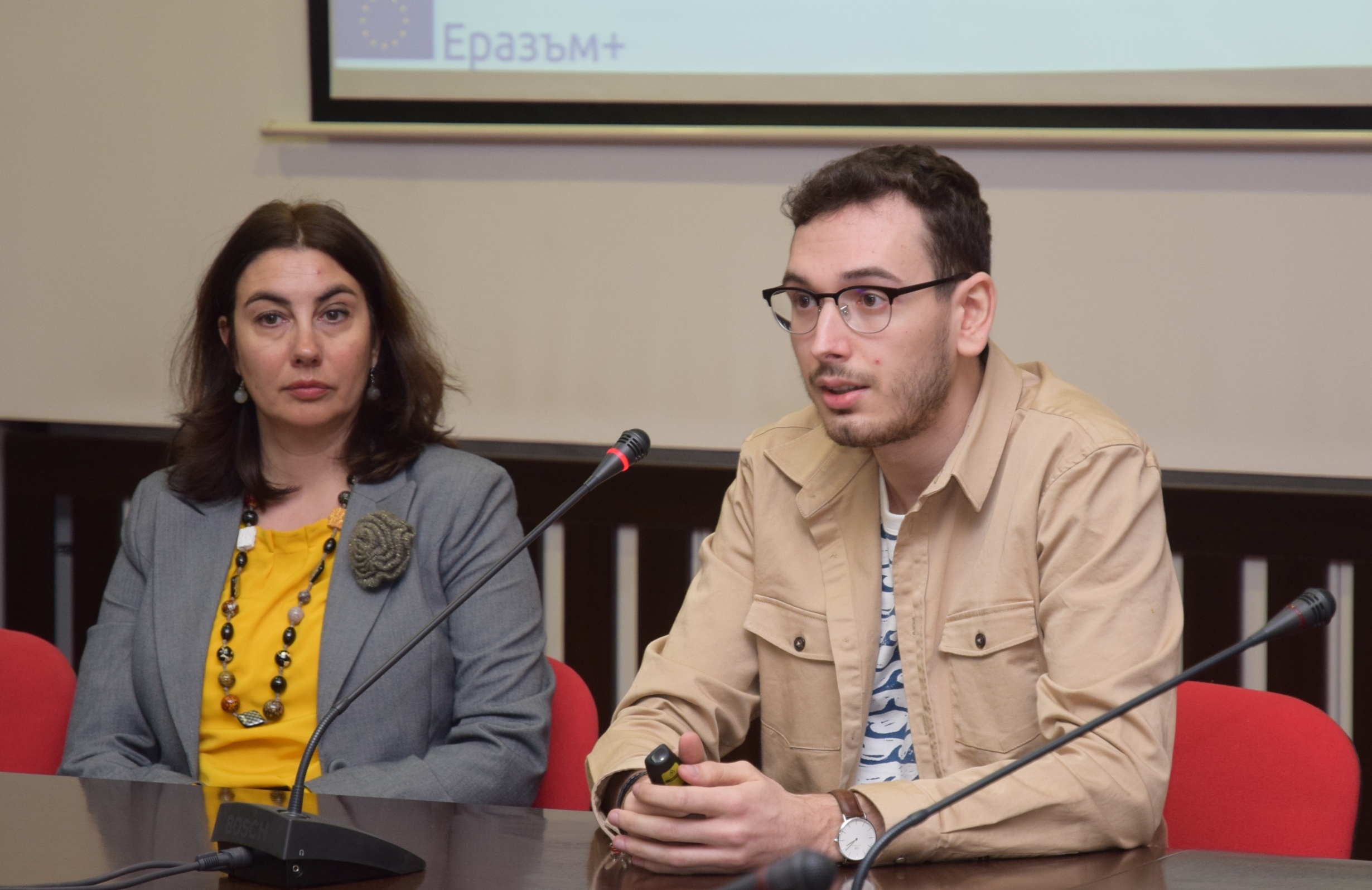 Assoc. Prof. Ekaterina Tosheva and Dario Dionisi
In his presentation Dario Dionisi, assistant of UCSLM outlined the most important points of Erasmus + Programme established 30 years ago. He pointed out that in 2016 the Center had implemented mobility for 148 undergraduates and Doctoral students of UNWE to universities in Germany, Austria, Belgium, Netherland, Italy, Spain, etc. Among the useful facts about the Programme Dario outlined the access to other higher educational systems different from the Bulgarian one, extension of knowledge and competencies in the relevant scientific field, improvement of commands of foreign languages, self-assessment of the personal level, internship abroad, communication with colleagues from other countries, knowledge about other countries culture. Dario shared also his experience in mobility on the Erasmus+ Programme at the University of Florence, Italy.
During the information meeting
The undergraduates and Doctoral students attending at the meeting were informed about their right of participation in the Programme, requirements to candidates and the choice of foreign university. Albert Pashov, Master`s degree student at the UNWE, speciality Marketing with specialization Advertising Management presented ESN Bulgaria – international volunteer non-governmental non-profit organization recognized by the European Commission for its official partner in the promotion of programmes for student mobility and international student rights protection. Albert and his colleague Joanna told about their stays at the foreign universities.
Albert and Joanna told about their participation in the Erasmus+ Programme