The Cooperation between The UNWE and ICPA Will Be Expanded and Enriched
The Rector of UNWE Prof. D.Sc.(Econ.) Statty Stattev was an official guest at the solemn assembly on the occasion of the 85th Anniversary of independent financial audit in Bulgaria, 25th Anniversary of audit profession recovery and the 20th Anniversary of foundation of the Institute of Certified Public Accountants in Bulgaria (ICPA). The event was held in the Royal Hall of Balkan Hotel.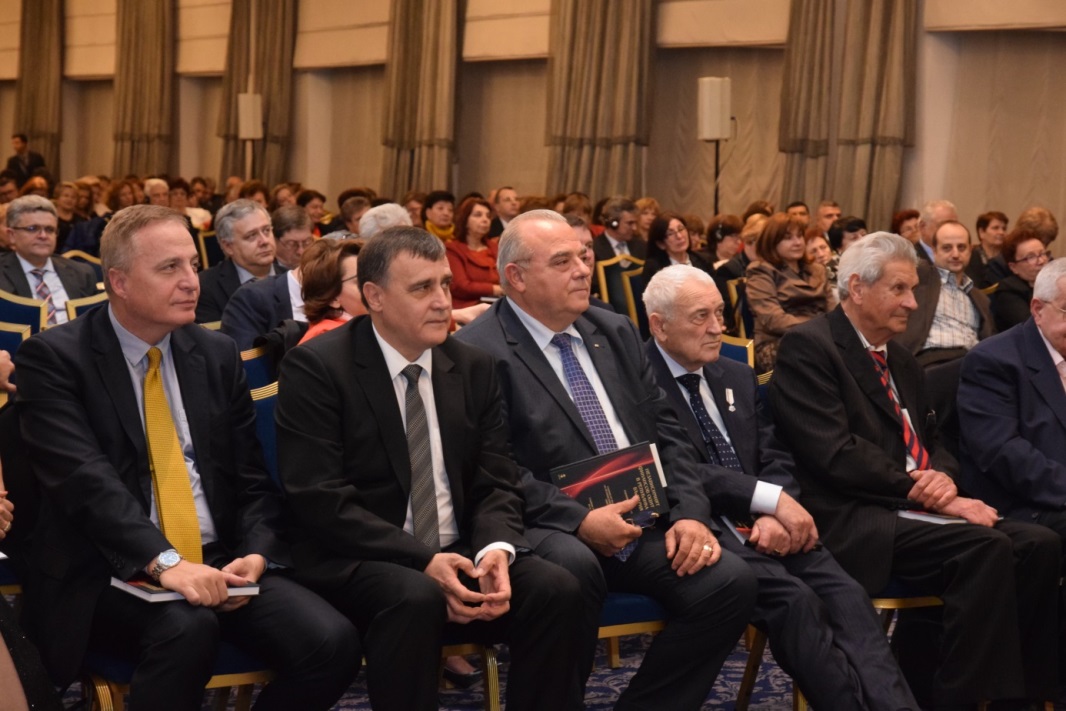 The Rector Prof. Statty Stattev (in the middle), Prof. Mihail Dinev (on the right next to him) and Mr. Boyko Kostov (on left next to the Rector)
These are three significant anniversaries and behind them stand the efforts of several generations of professionals who work for the interest of Bulgaria with exceptional competence, responsibility and honesty, declared the Rector in his Greeting address to Boyko Kostov, President of ICPA. The Rector continued: "As a Rector of UNWE I am proud that in 1931 among the initiators and founders of the newly established Institute of Certified Public Accountants in Bulgaria there have been lecturers from the Free University of Political and Economic Sciences, the predecessor of the University of National and World Economy, who after the opening of ICPA have occupied leading positions at it", said Prof. Stattev. He reminded that the Chairman of the first Management Council had been Prof. Dimitar Dobrev lately elected as Rector of our university and among the first registered members of ICPA there had been 39 alumni of UNWE.
The Rector is greeting the Managing Body and the members of ICPA
Prof. Stattev declared: "I am glad that today we, their followers, keep, respect and develop our glorious traditions, work in the spirit of mutual cooperation and honest partnership relations and larger part of the ICPA members are alumni of UNWE. Thanks to the Managing Body and members of ICPA – the only professional organization of certified public accountants in our country - for their commitment and efforts they make for the students of UNWE with their professional expertise, with their assistance in the implementation of the internship programmes, with the chances they give to our students for career development".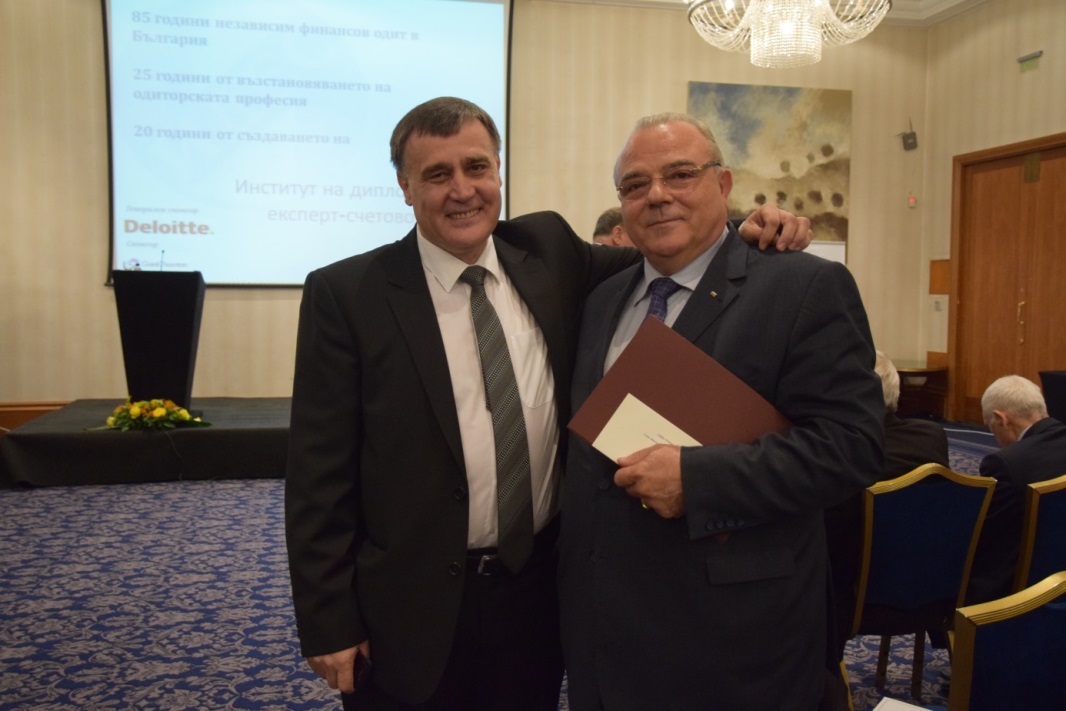 Prof. Statty Stattev and Boyko Kostov – partners and adherents
Prof. Stattve outlined that by the considerable assistance of ICPA it had been set up the beginning of joint Master`s degree programme between the UNWE, ICPA and the Institute of Certified Accountants of England and Wales and representatives of ICAEW had participated in conferences, round table forums, discussions and other scientific events held at the UNWE. The Rector expressed his confidence that the cooperation between both institutions would be expanded and enriched.